Introduction
This owner's manual applies to the GRAND VITARA series: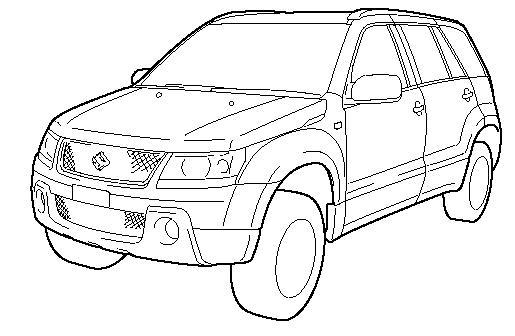 NOTE: The illustrated model is one of the GRAND VITARA series.
Thank you for choosing SUZUKI and welcome to our growing family. Your choice was a wise one; SUZUKI products are a great value that will give you years of driving pleasure.
This Owner's Manual was prepared to help you have a safe, enjoyable, and trouble-free experience with your SUZUKI. In it you will learn about the vehicle's operation, its safety features and maintenance requirements. Please read it carefully before operating your vehicle.
Afterwards, keep this Manual in the glove box for future reference.
Should you resell the vehicle, please leave this Manual with it for the next owner.
In addition to the Owner's Manual, the other booklets provided with your SUZUKI explain the vehicle's warranties. We recommend you read them as well to familiarize yourself with this important information.
When planning the regular scheduled maintenance of your SUZUKI, we recommend you visit your local SUZUKI dealership. Their factory- trained technicians will provide the best possible service and use only genuine SUZUKI parts and accessories.
See also:
Head Restraints
Head Restraints Head restraints are designed to help reduce the risk of neck injuries in case of an accident. Adjust the head restraint to the position which places the center of the head rest ...
If You Can Not Shift Automatic Transaxle Gearshift Lever Out of "P" (PARK)
Vehicles with an automatic transaxle have an electrically operated park-lock feature. If the vehicle's battery is discharged, or there is some other electrical failure, the automatic transaxle ...
Air Conditioning System
If you do not use the air conditioner for a long period, such as during winter, it may not give the best performance when you start using it again. To help maintain optimum performance and durabil ...