Windshield Wiper and Washer Lever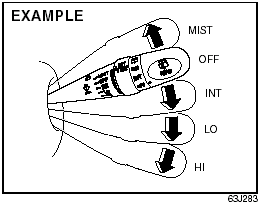 Windshield Wipers
To turn the windshield wipers on, move the lever up and down to one of the four operating positions. In the "INT" position (if equipped), the wipers operate intermittently.
The "INT" position is very convenient for driving in mist or light rain. In the "LO" position, the wipers operate at a steady low speed. In the "HI" position, the wipers operate at a steady high speed. To turn off the wipers, move the lever back to the "OFF" position.
Move the lever up and hold it to the "MIST" position, the windshield wipers will turn on continuously at low speed.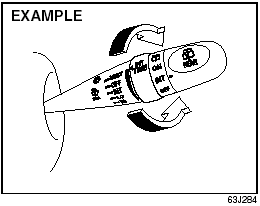 If the lever is equipped with the "INT TIME" control, turn the control forward or rearward to adjust the intermittent wiper operation to the desired interval.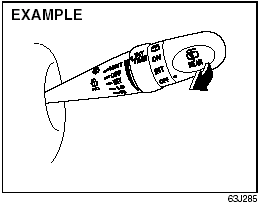 Windshield Washer
To spray windshield washer fluid, pull the lever toward you. The windshield wipers will automatically turn on at low speed if they are not already on and if the "INT" position is equipped.

WARNING:
• To prevent windshield icing in cold weather, turn on the defroster to heat the windshield before and during windshield washer use.
• Do not use radiator antifreeze in the windshield washer reservoir. It can severely impair visibility when sprayed on the windshield, and can also damage your vehicle's paint.
CAUTION:
To help prevent damage to windshield wiper and washer system
components, you should take the following precautions:
• Do not continue to hold in the lever when there is no windshield washer fluid being sprayed or the washer motor can be damaged.
• Do not attempt to remove dirt from a dry windshield with the wipers or you can damage the windshield and the wiper blades. Always wet the windshield with washer fluid before operating the wipers.
• Clear ice or packed snow from the wiper blades before using the wipers.
• Check the washer fluid level regularly.
Check it often when the
weather is bad.
• Only fill the washer fluid reservoir 3/4 full during cold weather to allow room for expansion if the temperature falls low enough to freeze the solution.
See also:
Braking and Handling
In order to successfully enter a field already saturated with countless nondescript transportation appliances, Suzuki breaks away from traditional values normally associated with the mainstream, s ...
Warranties
The warranties covering your vehicle are explained in a separate New Vehicle Warranty Information booklet given to you at the time of sale. Please read this booklet carefully so you can understand ...
Cruise Control (if equipped)
Cruise Control (if equipped) The cruise control system allows you to maintain a steady speed without keeping your foot on the accelerator pedal. The controls for operating the cruise control sy ...