Steering Wheel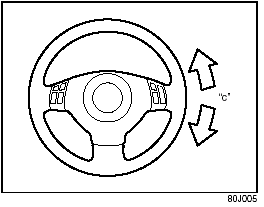 Steering Wheel

Check the play of the steering wheel by gently turning it from left to right and measuring the distance that it moves before you feel slight resistance. The play should be between the specified values. Check that the steering wheel turns easily and smoothly without rattling by turning it all the way to the right and to the left while driving very slowly in an open area. If the amount of free play is outside the specification or you find anything else to be wrong, an inspection must be performed by your SUZUKI dealer.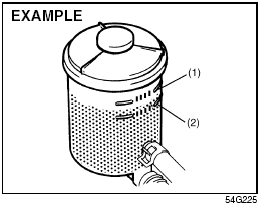 Power Steering (if equipped)
(1) UPPER
(2) LOWER
Check the steering box case, vane pump and hose connections for leaks or damage.
Power Steering Fluid
Check the fluid level by looking at the reservoir in the engine compartment when the fluid is cold (about room temperature).
Check that the fluid level is between the "UPPER" and "LOWER" lines. If the fluid level is near the "LOWER" line, fill it up to the "UPPER" line with an automatic transaxle fluid equivalent to ATF DEXRON®-II (Esso JWS 2326) or DEXRON®-III. Do not overfill.
See also:
"PASS AIR BAG OFF" Indicator
"PASS AIR BAG OFF" Indicator The "PASS AIR BAG OFF" indicator is located on the center of the instrument panel. When the ignition switch is turned to the "ON" position, this indicato ...
Off-Road
We drove an RMZ-4 Equator around several trails at Knibbe Ranch, about 55 miles north of San Antonio. The ranch, consisting of 2,000 acres of Texas hill country, is mostly covered with scrub oak a ...
Battery
Battery WARNING: Batteries produce flammable hydrogen gas. Keep flames and sparks away from the battery or an explosion may occur. Never smoke when working near the battery. WARNING: When ...