2WD/i-AWD (intelligent All Wheel Drive) Switch (if equipped)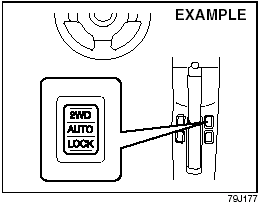 2WD/i-AWD (intelligent All Wheel Drive) Switch (if equipped)
The 2WD/i-AWD switch is located on the center console.
For details on how to use the 2WD/i-AWD switch, refer to "Using the 2WD/i-AWD Switch" in the "OPERATING YOUR VEHICLE" section.
See also:
If the Engine Overheats
The engine could overheat temporarily under severe driving conditions. If the High Engine Coolant Temperature Warning Light in the instrument cluster glows red during driving: 1) Turn off the air ...
Driving on Hills
Driving on Hills • When climbing steep hills, the car may begin to slow down and show a lack of power. If this happens, you should shift to a lower gear so that the engine will again be opera ...
Fuel Recommendation
Your vehicle requires regular unleaded gasoline with a minimum rating of 87 pump octane ((R + M)/2 method). In some areas, the only fuels that are available are oxygenated fuels. Oxygenated f ...