Clutch Pedal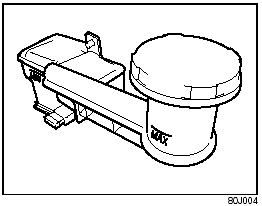 Clutch Pedal
Check the clutch pedal for smooth operation and clutch fluid level from time to time.
If clutch dragging is felt with the pedal fully depressed, have the clutch inspected by your SUZUKI dealer. If the clutch fluid level is near the "MIN" line, fill it up to the "MAX" line with DOT3 brake fluid.
See also:
Luggage Compartment Light
Luggage Compartment Light The luggage compartment light is located at the left side of the rear luggage compartment. When you open any of the doors including the tailgate with the luggage compar ...
Seat Adjustment
WARNING: Never attempt to adjust the driver's seat or seatback while driving. The seat or seatback could move unexpectedly, causing loss of control. Make sure that the driver's seat and sea ...
Parking Brake Lever
Parking Brake Lever (1) To set (2) To release (3) To release The parking brake lever is located between the seats. To set the parking brake, hold the brake pedal down and pull the parking bra ...