Fuses
Your vehicle has three types of fuses, as described below:
Main Fuse – The main fuse takes current directly from the battery.
Primary Fuses – These fuses are between the main fuse and individual fuses, and are for electrical load groups.
Individual Fuses – These fuses are for individual electrical circuits.
For details on protected circuits, refer to the "FUSES AND PROTECTED CIRCUITS" section in this manual.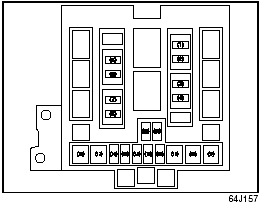 Main Fuse Box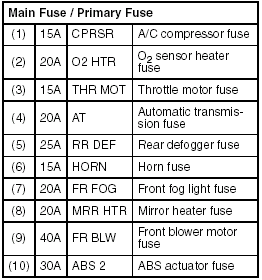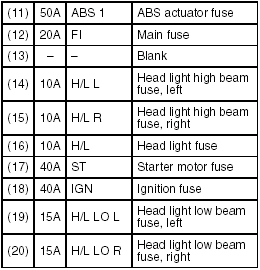 The main fuse, primary fuses and some of the individual fuses are located in the engine compartment. If the main fuse blows, no electrical component will function.
If a primary fuse blows, no electrical component in the corresponding load group will function. When replacing the main fuse or a primary fuse, use a genuine SUZUKI replacement.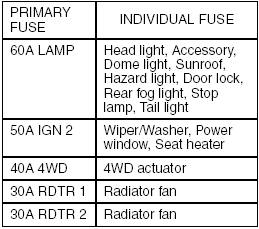 WARNING:
If a fuse in the main fuse box blows, be sure to have your vehicle inspected by an authorized SUZUKI dealer. Always use a genuine SUZUKI replacement. Never use a substitute such as a wire even for a temporary fix, or extensive electrical damage and a fire can result.
Fuse under the Dash Board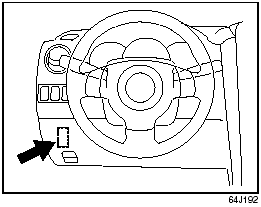 Fuse box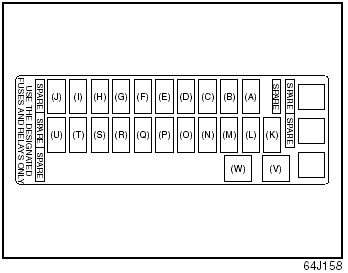 Fuse box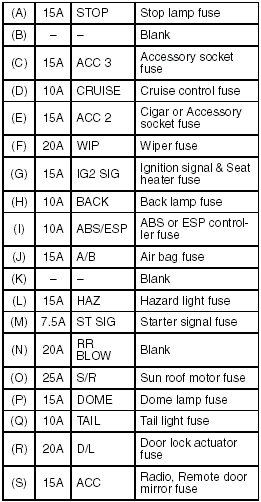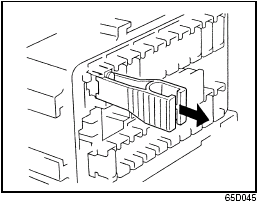 The fuse box is located under the driver's side of the dashboard. To remove a fuse, use the fuse puller provided in the fuse box.

WARNING:
Always be sure to replace a blown fuse with a fuse of the correct amperage.
Never use a substitute such as aluminum foil or wire to replace a blown fuse. If you replace a fuse and the new one blows in a short period of time, you may have a major electrical problem. Have your vehicle inspected immediately by your SUZUKI dealer.
NOTE:
Make sure that the fuse box cover always carries spare fuses.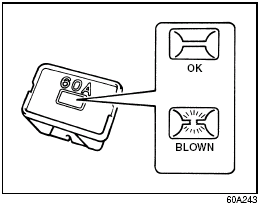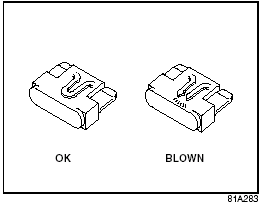 See also:
Engine Oil and Filter
Specified Oil (1) Preferred Use engine oil with the American Petroleum Institute Certified For Gasoline Engines "Starburst" symbol. Select the appropriate oil viscosity according to the ab ...
Heating System
Description of Controls Temperature selector (1) This is used to select the temperature by turning the selector. Blower speed selector (2) This is used to turn on the blower and to select blow ...
Rear Window Wiper/Washer Switch (if equipped)
To turn the rear wiper on, twist the rear wiper switch on the end of the lever forward to the "ON" position. If your vehicle is equipped the "INT" position, the rear wiper operates inter ...