Radio Antenna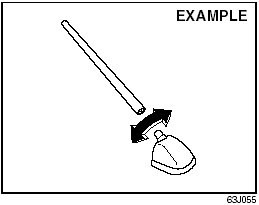 SX4
The radio antenna at the end of the roof is removable. If the antenna hits anything such as when parking in a garage with a low ceiling, remove the antenna. Turn the antenna counterclockwise. To reinstall the antenna, turn it clockwise firmly by hand.
CAUTION:
To avoid damage to the radio antenna:
• Remove the antenna before using an automatic car wash.
• Remove the antenna when it is possible for the antenna to hit something such as a low ceiling in a parking garage or putting a car cover over your car.
• Remove the antenna before putting a car cover over your vehicle.
SX4 SEDAN
The radio antenna wire is printed inside the rear window.
CAUTION:
• Do not attach any metal objects to the rear window glass, or place metallic film near it. Either of these conditions may cause poor reception or noise.
• When cleaning the inside of the rear window, be careful not to scratch or damage the rear window antenna. Wipe the rear window lightly along the antenna with a dampened soft cloth.
See also:
Before Driving
...
Automatic Transaxle Fluid
Specified Fluid Use an automatic transaxle fluid equivalent to DEXRON®-III. Fluid Level Check CAUTION: Driving with too much or too little fluid can damage the transaxle. You must check the fl ...
Corrosion Prevention
It is important to take good care of your vehicle to protect it from corrosion. Listed below are instructions for how to maintain your vehicle to prevent corrosion. Please read and follow these in ...