Radio Antenna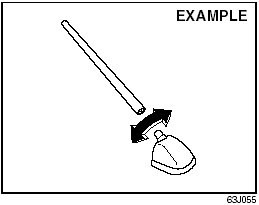 SX4
The radio antenna at the end of the roof is removable. If the antenna hits anything such as when parking in a garage with a low ceiling, remove the antenna. Turn the antenna counterclockwise. To reinstall the antenna, turn it clockwise firmly by hand.
CAUTION:
To avoid damage to the radio antenna:
• Remove the antenna before using an automatic car wash.
• Remove the antenna when it is possible for the antenna to hit something such as a low ceiling in a parking garage or putting a car cover over your car.
• Remove the antenna before putting a car cover over your vehicle.
SX4 SEDAN
The radio antenna wire is printed inside the rear window.
CAUTION:
• Do not attach any metal objects to the rear window glass, or place metallic film near it. Either of these conditions may cause poor reception or noise.
• When cleaning the inside of the rear window, be careful not to scratch or damage the rear window antenna. Wipe the rear window lightly along the antenna with a dampened soft cloth.
See also:
Transfer Switch (if equipped)
Transfer Switch (if equipped) The transfer switch is located on the center of the instrument panel. For details on how to use this switch, refer to "Using the Transfer Switch" in the "OPE ...
Frame Hooks
SX4 Front (1) SX4 SEDAN Front (1) SX4 Rear (2) SX4 SEDAN Rear (2) Side (3) Frame hooks are provided on the front (1), rear (2) and side (3) of the vehicle. The hooks (1) and (2) ...
Shortcomings
The Kizashi does have its shortcomings, one of which is backseat roominess: As mentioned in the 2010 review, legroom in particular is a couple of inches below the norm. It also has a couple of qui ...