Accessory Socket (if equipped)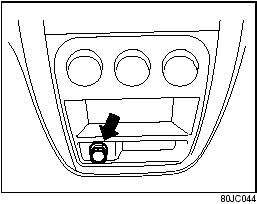 Accessory Socket (if equipped)
This socket can be used to provide 12 volt/ 120 watt power for electrical accessories.
CAUTION:
Use of inappropriate electrical accessories can cause damage to your vehicle's electrical system. Make sure that any electrical accessories you use are designed to plug into this type of socket.
See also:
On-Pavement Driving
Government data show that most rollover accidents for multi-purpose vehicles are caused when a driver loses control of the vehicle and leaves the paved portion of the roadway striking a ditch, cur ...
Going & Stopping
For a V-6 with paltry mileage, the Grand Vitara's acceleration is merely adequate. Our friends at MotorWeek clocked a comparably equipped 4WD Grand Vitara automatic's 0-60 mph time at 9.0 seconds. ...
Warning
WARNING: You should take extreme care when working on your vehicle to prevent accidental injury. Here are a few precautions that you should be especially careful to observe: • To prevent da ...