Eyeglasses Holder (if equipped)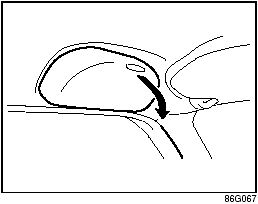 Eyeglasses Holder (if equipped)
To use the eyeglasses holder, open the cover. Do not put heavy or sharp items in the box.
CAUTION:
If you park your vehicle outdoors in direct sunlight or in hot weather, the eyeglasses holder can get very hot since it is close to the roof. So, when parking in such conditions: • Do not leave eyeglasses in the holder. The heat may distort plastic lenses or frames.
• Do not place flammable items, such as a lighter, in the holder. The heat may cause a fire.
See also:
Driving on Slippery Roads
Driving on Slippery Roads Under wet road conditions you should drive at a lower speed than on dry roads due to possible slippage of tires during braking. When driving on icy, snow-covered, or m ...
Fog Light Switch (if equipped)
Fog Light Switch (if equipped) The front fog light comes on when the fog light switch is pushed in with the lighting switch turned to the third position and the beams set to the low beam positio ...
Powertrain
Built at Suzuki's brand-new manufacturing facility in Sagara, Japan, the 2010 Kizashi is equipped with a standard 2.4-liter DOHC inline four-cylinder engine offering a more potent standard engine ...