Eyeglasses Holder (if equipped)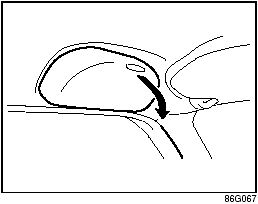 Eyeglasses Holder (if equipped)
To use the eyeglasses holder, open the cover. Do not put heavy or sharp items in the box.
CAUTION:
If you park your vehicle outdoors in direct sunlight or in hot weather, the eyeglasses holder can get very hot since it is close to the roof. So, when parking in such conditions: • Do not leave eyeglasses in the holder. The heat may distort plastic lenses or frames.
• Do not place flammable items, such as a lighter, in the holder. The heat may cause a fire.