Eyeglasses Holder (if equipped)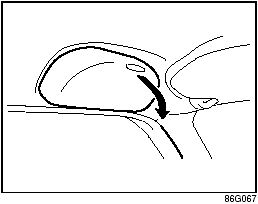 Eyeglasses Holder (if equipped)
To use the eyeglasses holder, open the cover. Do not put heavy or sharp items in the box.
CAUTION:
If you park your vehicle outdoors in direct sunlight or in hot weather, the eyeglasses holder can get very hot since it is close to the roof. So, when parking in such conditions: • Do not leave eyeglasses in the holder. The heat may distort plastic lenses or frames.
• Do not place flammable items, such as a lighter, in the holder. The heat may cause a fire.
See also:
Seat Adjustment
WARNING: Never attempt to adjust the driver's seat or seatback while driving. The seat or seatback could move unexpectedly, causing loss of control. Make sure that the driver's seat and ...
If You Can Not Shift Automatic Transmission Gearshift Lever Out of "P" (PARK)
Vehicles with an automatic transmission have an electrically operated park-lock feature. If the vehicle's battery is discharged, or there is some other electrical failure, the automatic transm ...
If the Starter Does Not Operate
1) Try turning the ignition switch to the "START" position with the headlights turned on to determine the battery condition. If the headlights go excessively dim or go off, it usually means th ...