Parking Brake Lever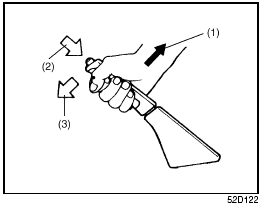 Parking Brake Lever

(1) To set
(2) To release
(3) To release
The parking brake lever is located between the seats. To set the parking brake, hold the brake pedal down and pull the parking brake lever all the way up. To release the parking brake, hold the brake pedal down, pull up slightly on the parking brake lever, push the button on the end of the lever with your thumb and lower the lever to its original position.
For automatic transaxle vehicles, always set the parking brake before moving the gearshift lever to the "P" (Park) position. If you park on an incline and shift into "P" before you set the parking brake, the weight of the vehicle may make it difficult to shift out of "P" when you are ready to drive the vehicle. When preparing to drive the vehicle, move the gearshift lever out of the "P" position before releasing the parking brake.


WARNING:
• Never drive your vehicle with the parking brake set: rear brake effectiveness can be reduced from overheating, brake life may be
shortened or permanent brake damage may result.
• If the parking brake does not hold the vehicle securely or does not fully release, have your vehicle inspected immediately by an authorized SUZUKI dealer.


WARNING:
Always set the parking brake fully before leaving your vehicle or it may roll, causing injury or damage. When parking, make sure the gearshift lever for manual transaxle vehicles is in 1st gear or "R" (Reverse) and the gearshift lever for automatic transaxle vehicles is in "P" (Park).
Remember, even though the transaxle is in gear or in Park, you must set the parking brake fully.
See also:
Fuel Recommendation
Your vehicle requires regular unleaded gasoline with a minimum rating of 87 pump octane ((R + M)/2 method). In some areas, the only fuels that are available are oxygenated fuels. Oxygenated fue ...
Under the Hood
Engine and transmission configurations include: 152-horsepower, 2.5-liter inline-four-cylinder, aluminum block/cylinder head, DOHC, four valves per cylinder with 171 pounds-feet of peak torque 261 ...
Reassuring safety
The Suzuki SX4 inspires confidence with its extensive array of safety features. Active safety elements include ABS with electronic brake-force distribution (EBD), standard on all models together w ...