Parking Brake Lever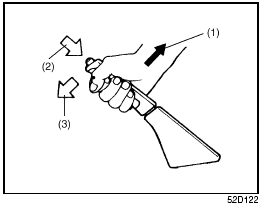 Parking Brake Lever

(1) To set
(2) To release
(3) To release
The parking brake lever is located between the seats. To set the parking brake, hold the brake pedal down and pull the parking brake lever all the way up. To release the parking brake, hold the brake pedal down, pull up slightly on the parking brake lever, push the button on the end of the lever with your thumb and lower the lever to its original position.
For automatic transaxle vehicles, always set the parking brake before moving the gearshift lever to the "P" (Park) position. If you park on an incline and shift into "P" before you set the parking brake, the weight of the vehicle may make it difficult to shift out of "P" when you are ready to drive the vehicle. When preparing to drive the vehicle, move the gearshift lever out of the "P" position before releasing the parking brake.


WARNING:
• Never drive your vehicle with the parking brake set: rear brake effectiveness can be reduced from overheating, brake life may be
shortened or permanent brake damage may result.
• If the parking brake does not hold the vehicle securely or does not fully release, have your vehicle inspected immediately by an authorized SUZUKI dealer.


WARNING:
Always set the parking brake fully before leaving your vehicle or it may roll, causing injury or damage. When parking, make sure the gearshift lever for manual transaxle vehicles is in 1st gear or "R" (Reverse) and the gearshift lever for automatic transaxle vehicles is in "P" (Park).
Remember, even though the transaxle is in gear or in Park, you must set the parking brake fully.
See also:
Ignition Switch
The ignition switch has the following four positions: LOCK This is the normal parking position. It is the only position in which the key can be removed. Manual transaxle • Manual transaxl ...
Driving on Hills
Driving on Hills • When climbing steep hills, the car may begin to slow down and show a lack of power. If this happens, you should shift to a lower gear so that the engine will again be opera ...
Driving Tips
WARNING: • Wear Your Seat Belts at All Times. Even though air bags are equipped at the front seating positions, the driver and all passengers should be properly restrained at all times, usi ...