Battery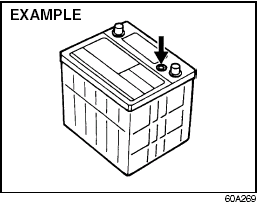 Battery

WARNING:
Batteries produce flammable hydrogen gas. Keep flames and sparks away from the battery or an explosion may occur. Never smoke when working near the battery.

WARNING:
When checking or servicing the battery, disconnect the negative cable.
Be careful not to cause a short circuit by allowing metal objects to contact the battery posts and the vehicle at the same time.

WARNING:
To avoid harm to yourself or damage to your vehicle or battery, follow the jump starting instructions in the "EMERGENCY SERVICE" section of this manual if it is necessary to jump start your vehicle.

WARNING:
Battery posts, terminals and related accessories contain lead and lead compounds. Wash hands after handling.
Your vehicle is equipped with a battery that requires infrequent maintenance. You will never have to add water. You should, however, periodically check the battery, battery terminals and battery hold-down bracket for corrosion. Remove corrosion using a stiff brush and ammonia mixed with water, or baking soda mixed with water. After removing corrosion, rinse with clean water.
The test indicator on the top of the battery provides information on the condition of the battery.
If your vehicle is not going to be driven for a month or longer, disconnect the cable from the negative terminal of the battery to help prevent discharge.
See also:
2008 Suzuki Grand Vitara review
The Grand Vitara's current generation made its debut for the 2006 model year, and we weren't impressed overall. Now, with the class of compact SUVs and wagons continuing to evolve and gas prices s ...
Overview
Built at Nissan's manufacturing facility in Smyrna, Tenn., the Suzuki Equator features a fuel efficient 2.5-liter DOHC inline four with 152 horsepower and 171 lb.-ft. of torque or an optional 4.0- ...
A True Off-Roader?
Even though the spare tire isn't strapped to the undercarriage, the departure angle isn't great: 26 degrees. The offroad-capable Jeep Patriot's measures 32 degrees, and even the Escape — which m ...