Front Seat Heater (if equipped)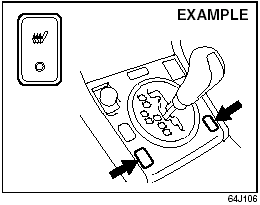 Front Seat Heater (if equipped)
With the ignition switch in the "ON" position, push in one or both of the seat heater switches to warm the corresponding seat(s). The indicator light below the switch will also come on. To turn off the seat heater, push in the switch again. The indicator light below the switch will go off.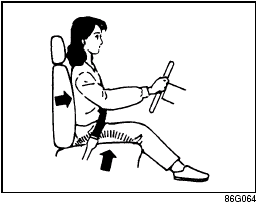 WARNING:
Improperly using the seat heater can be hazardous. An occupant can suffer burns even if the heating temperature is fairly low, if the occupant is wearing thin pants, a thin skirt or shorts and leaves the heater on for long periods.
Avoid using the seat heater for these occupants:
• People who have reduced feeling in their legs, including the elderly or those with certain disabilities.
• Small children, or anyone with sensitive skin.
• People who are asleep or under the influence of alcohol or other drugs which make them tired.
CAUTION:
To avoid damaging the heater element: • Do not subject the front seats to heavy impacts, such as children jumping on them.
• Do not cover the seat with any insulating materials such as blankets or cushions.
See also:
Grand Vitara in the Market
Despite building some solid cars, like the fun-to-drive SX4 compact and the midsize Kizashi, which earned third place in Cars.com's recent $25,000 Family Sedan Shootout, Suzuki has a consideration ...
2009 Suzuki Equator review By John Stewart
Suzuki has long manufactured high-performance motorcycles and has been a player in marine engines, ATVs, dirt bikes and other recreational equipment. It has sold more than 100,000 vehicles per yea ...
Battery
Battery WARNING: Batteries produce flammable hydrogen gas. Keep flames and sparks away from the battery or an explosion may occur. Never smoke when working near the battery. WARNING ...