If You Can Not Shift Automatic Transaxle Gearshift Lever Out of "P" (PARK)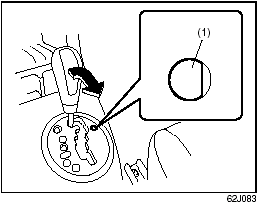 Vehicles with an automatic transaxle have an electrically operated park-lock feature.
If the vehicle's battery is discharged, or there is some other electrical failure, the automatic transaxle cannot be shifted out of Park in the normal way. Jump starting may correct the condition. If not, follow the procedure described below. This procedure will permit changing the transaxle out of Park.
1) Be sure the parking brake is firmly applied.
2) If the engine is running, stop the engine.
3) Make sure the key is in the "ON" or "ACC" position.
4) Remove the cover (1) over the button.
5) With pushing the release button by the key or the flat end rod, shift the gearshift lever to the desired position.
This procedure is for emergency use only.
If repeated use of this procedure is necessary, or the procedure does not work as described, take the vehicle to your dealer for repair.
See also:
Improving Fuel Economy
The following instructions will help you improve fuel economy. Avoid excessive idling If you are to wait for more than a minute while you are parked, stop the engine and start it again later. Whe ...
Using the Transmission
5-Speed Automatic Transmission D: 5-speed automatic transmission mode. 4: 4-speed automatic transmission mode. The 4-speed mode is suitable for the following driving conditions: • Driving on ...
Tilt Steering Lock Lever
Tilt Steering Lock Lever The release lever is located under the steering column. To adjust the steering wheel height: 1) Pull up the lock lever to unlock the steering column. 2) Adjust the ste ...