If You Can Not Shift Automatic Transaxle Gearshift Lever Out of "P" (PARK)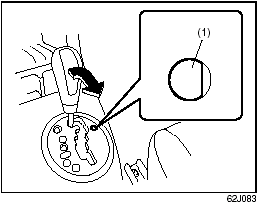 Vehicles with an automatic transaxle have an electrically operated park-lock feature.
If the vehicle's battery is discharged, or there is some other electrical failure, the automatic transaxle cannot be shifted out of Park in the normal way. Jump starting may correct the condition. If not, follow the procedure described below. This procedure will permit changing the transaxle out of Park.
1) Be sure the parking brake is firmly applied.
2) If the engine is running, stop the engine.
3) Make sure the key is in the "ON" or "ACC" position.
4) Remove the cover (1) over the button.
5) With pushing the release button by the key or the flat end rod, shift the gearshift lever to the desired position.
This procedure is for emergency use only.
If repeated use of this procedure is necessary, or the procedure does not work as described, take the vehicle to your dealer for repair.
See also:
Exterior
From the center roof pillar forward, the SX4 Sport sedan is a dead ringer for the SX4 Crossover, featuring the same stylishly assertive face with creased bodywork. The SportBack ditches the Crosso ...
Windshield Washer Fluid
Check that there is washer fluid in the tank by looking at the washer fluid level gauge which is attached to the cap of the washer fluid tank. If the fluid level is near "E" mark, refill i ...