Exhaust Gas Warning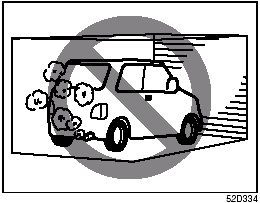 WARNING:
Avoid breathing exhaust gases.
Exhaust gases contain carbon monoxide, a potentially lethal gas that is colorless and odorless. Since carbon monoxide is difficult to detect by itself, be sure to take the following precautions to help prevent carbon monoxide from entering your vehicle.
• Do not leave the engine running in garages or other confined areas.
• Do not park with the engine running for a long period of time, even in an open area. If it is necessary to sit for a short time in a parked vehicle with the engine running, make sure the air intake selector is set to "FRESH AIR" and the blower is at high speed.
• Avoid operating the vehicle with the tail gate or trunk open. If it is necessary to operate the vehicle with the tail gate or trunk open, make sure the sunroof (if equipped) and all windows are closed, and the blower is at high speed with the air intake selector set to "FRESH AIR".
• To allow proper operation of your vehicle's ventilation system, keep the air inlet grille in front of the windshield clear of snow, leaves or other obstructions at all times.
• Keep the exhaust tailpipe area clear of snow and other material to help reduce the buildup of exhaust gases under the vehicle. This is particularly important when parked in blizzard conditions.
• Have the exhaust system inspected periodically for damage and leaks.
Any damage or leaks should be repaired immediately.
See also:
Windows
Power Window Controls (if equipped) Driver's side The power windows can only be operated when the ignition switch is in the "ON" position. The driver's door has switches (1), (2), (4), ...
2009 Suzuki Equator review By Jim Mateja
The obvious question is why Suzuki added a midsize pickup for 2009 when trucks are losing favor. "Why not?" responds an unapologetic Gene Brown, Suzuki's vice president of marketing. ...
Warning
WARNING: You should take extreme care when working on your vehicle to prevent accidental injury. Here are a few precautions that you should be especially careful to observe: • To prevent da ...