Steering Wheel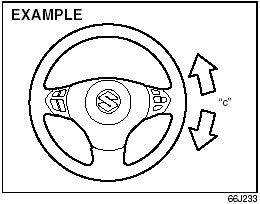 Steering Wheel

Check the play of the steering wheel by gently turning it from left to right and measuring the distance that it moves before you feel slight resistance. The play should be between the specified values. Check that the steering wheel turns easily and smoothly without rattling by turning it all the way to the right and to the left while driving very slowly in an open area. If the amount of free play is outside the specification or you find anything else to be wrong, an inspection must be performed by your SUZUKI dealer.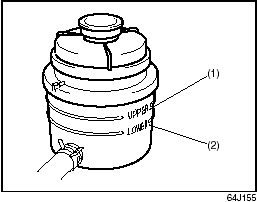 Power Steering (if equipped)
(1) UPPER
(2) LOWER
Check the steering box case, vane pump and hose connections for leaks or damage.
Power Steering Fluid
Check the fluid level by looking at the reservoir in the engine compartment when the fluid is cold (about room temperature).
Check that the fluid level is between the (1) and (2) lines. If the fluid level is near the (2) line, fill it up to the (1) line with an automatic transmission fluid equivalent to ATF DEXRON®-II (Esso JWS 2326) or DEXRON®-III. Do not overfill.
See also:
2010 Suzuki SX4 review By Bill Jackson
The 2010 Suzuki SX4 SportBack has decent handling, but it's not the car to bring to the drag strip if you want to win anything — even if it is supposed to be the performance version of Suzuki's ...
Heated Rear Window and Heated Outside Rearview Mirrors (if equipped) Switch
Type 1 Type 2 When the rear window is misted, push this switch (1) to clear the window. If the driver's outside rearview mirror has the mark (2), it is also equipped with the heated outs ...
Overview
Suzuki, known primarily as a maker of small vehicles and high-performance motorcycles, marks the global debut of the 2010 Suzuki Kizashi (pronounced "Kee-Zah-Shee"), the company's first ...