If You Can Not Shift Automatic Transmission Gearshift Lever Out of "P" (PARK)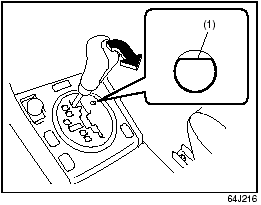 Vehicles with an automatic transmission have an electrically operated park-lock feature.
If the vehicle's battery is discharged, or there is some other electrical failure, the automatic transmission cannot be shifted out of Park in the normal way. Jump starting may correct the condition. If not, follow the procedure described below. This procedure will permit shifting the transmission out of Park.
1) Be sure the parking brake is firmly applied.
2) If the engine is running, stop the engine.
3) Make sure the key is in the "ON" or "ACC" position.
4) Remove the cover (1) on the hole.
5) With inserting the key or the flat end rod into the slot in the hole, shift the gearshift lever to the desired position.
This procedure is for emergency use only.
If repeated use of this procedure is necessary, or the procedure does not work as described, take the vehicle to your dealer for repair.
See also:
Specifications
NOTE: Specifications are subject to change without notice. 4WD: 4-wheel drive. 2WD: 2-wheel drive. M/T: Manual transmission. A/T: Automatic transmission. ...
Fuses and Protected Circuits
SX4 SX4 SEDAN ...
Identification Numbers
Vehicle Identification Number Vehicle Identification Number The Vehicle Identification Number (VIN) may be found in the two locations shown in the above illustrations. This number is used to ...