Roof Rails or Roof Rack Anchors (if equipped)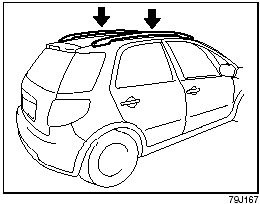 Roof rails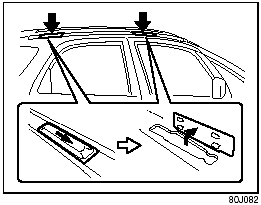 Roof rack anchors
You can use the roof rails or the roof rack anchors to attach the optional roof rack which is available at your SUZUKI dealer. If you use a roof rack, observe the instructions and precautions in this section and provided with the roof rack.
• Make sure the roof rack is securely installed.
• To mount various types of cargo (such as skis, bicycles, etc.) properly, use suitable attachments which are available from your SUZUKI dealer. Be sure to install the attachments properly and securely according to the instructions provided. Do not mount cargo directly on the roof panel. The cargo can damage the roof panel.
• The gross weight of the roof rack plus cargo must not exceed the loading capacity (50 kg (110 lbs)). Also, do not let the gross vehicle weight (fully loaded vehicle including driver, passengers, cargo, roof load and trailer tongue weight) exceed the Gross Vehicle Weight Rating (GVWR) listed in the "SPECIFICATIONS" section of this manual.
• Mount and secure the cargo onto the roof rack properly according to the instructions provided. Be sure to stow the heaviest items at the bottom and distribute the cargo as evenly as possible.
• Do not carry items so large that they hang over the bumpers or the sides of the vehicle, or block your view.
• Secure the front and rear ends of long items – such as wood panels, surfboards and so forth – to both the front and rear of the vehicle. You should protect the painted surfaces of the vehicle from scuffing caused by tie-down ropes.
• Check periodically to make sure the roof rack is securely installed and free from damage.
• For vehicles with roof rack anchors, make sure the anchors are covered with the caps when not in use.


WARNING:
• Abrupt maneuvers or failure to properly secure cargo can allow the cargo to fly off the vehicle and hit others, causing personal injury or property damage.
• Mount cargo securely and avoid abrupt maneuvers such as "jackrabbit" starts, sharp turns, fast cornering and sudden braking. Check periodically to make sure that cargo is securely fastened.
• Large, bulky, long, or flat items can affect vehicle aerodynamics or be caught by the wind, and can reduce vehicle control resulting in an accident and personal injury. Drive cautiously at a safely reduced speed when carrying this type of cargo.
See also:
Safety, Reliability & Pricing
In crash tests by the Insurance Institute for Highway Safety, the SX4 earned the top rating, Good, for front and side impacts. Rear crash protection — arguably less significant than front or sid ...
Mirrors
Inside Rearview Mirror Inside Rearview Mirror You can adjust the inside rearview mirror by hand so as to see the rear of your vehicle in the mirror. To adjust the mirror, set the selector tab ...
Interior
Only those opting for four-wheel drive will get all of the Equator's interior frills. The RMZ-4 package includes chrome trim on the instrument panel, more adjustments in the driver's seat and upgr ...