Luggage Compartment Cover (if equipped)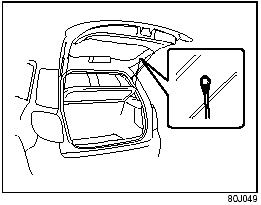 Luggage Compartment Cover (if equipped)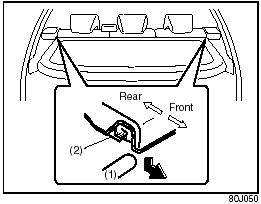 Luggage Compartment Cover (if equipped)
Luggage or other cargo placed in the luggage compartment can be hidden from view by a luggage compartment cover.


WARNING:
Do not carry items on top of the luggage compartment cover, even if they are small and light. Objects on top of the cover could be thrown about in an accident, causing injury, or could obstruct the driver's rear view.
See also:
Bed Design
The RMZ-4 Equator's bed design helps make it ideal for outdoor enthusiasts. It's a high-utility design, starting with a spray-on, textured bedliner that's applied at the factory and an engineered ...
2010 Suzuki Kizashi review by Clifford Atiyeh
Quick, name the last Suzuki you saw this week. Or this month. And it can't be a motorcycle or ATV. What, you didn't know Suzuki made cars? After two years of selling more than 100,000 cars in th ...
Clutch Pedal
Clutch Pedal Check the clutch pedal for smooth operation and clutch fluid level from time to time. If clutch dragging is felt with the pedal fully depressed, have the clutch inspected by your S ...