Cup Holder and Storage Area (if equipped)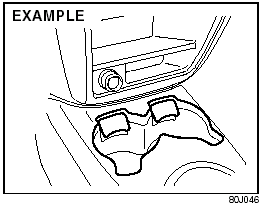 Cup holders are provided in the center console.


WARNING:
Do not use the cup holder or the storage bin to hold cups containing hot liquids or sharp-edged, hard or breakable objects. Objects in these bins may be thrown about during a sudden stop or impact, and could cause personal injury.
See also:
Towing a Disabled Vehicle
Emergency Towing If your vehicle is disabled, it may be towed by a tow truck using one of the following methods: 1) Tow the vehicle with two wheels lifted by the tow truck and the other two whee ...
Frame Hooks
Front Rear Frame hooks are provided at the front and rear of the vehicle. To access the front hook, unhook the lower part of the cover (1) and then remove the cover (1). WARNING: Do not u ...
Spark Plugs
Spark Plugs 65D180 You should inspect spark plugs periodically for carbon deposits. When carbon accumulates on a spark plug, a strong spark may not be produced. Remove carbon deposits with a w ...