Overhead Console Box (if equipped)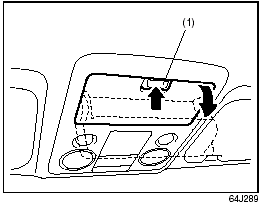 Overhead Console Box (if equipped)
To use the overhead console box, push on the front edge (1) and open the lid. To close the lid, push the front edge (1) until it latches. Do not put heavy or sharp items in the box.

WARNING:
Never drive with the overhead console box lid open. It could cause injury if an accident occurs.
CAUTION:
If you park your vehicle outdoors in direct sunlight or in hot weather, the eyeglasses compartment can get very hot since it is close to the roof.
So, when parking in such conditions: • Do not leave eyeglasses in the compartment. The heat may distort plastic lenses or frames.
• Do not place flammable items, such as a lighter, in the compartment.
The heat may cause a fire.
NOTE:
An aftermarket garage door opener can be installed in the front side overhead console box.
See also:
Instrument Cluster
Instrument Cluster 1. Speedometer 2. Odometer/Trip meter 3. Odometer/Trip meter selector knob 4. Tachometer 5. Fuel gauge 6. Temperature gauge 7. Warning and indicator lights ...
If the Engine is Flooded
If the engine is flooded with gasoline, it may be hard to start. If this happens, press the accelerator pedal all the way to the floor and hold it there while cranking the engine. (Do not operate ...
Air Cleaner
Air Cleaner If the air cleaner is clogged with dust, there will be greater intake resistance, resulting in decreased power output and increased fuel consumption. Unclamp the side clamps, and re ...