Overhead Console Box (if equipped)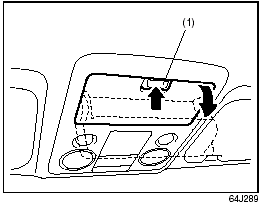 Overhead Console Box (if equipped)
To use the overhead console box, push on the front edge (1) and open the lid. To close the lid, push the front edge (1) until it latches. Do not put heavy or sharp items in the box.

WARNING:
Never drive with the overhead console box lid open. It could cause injury if an accident occurs.
CAUTION:
If you park your vehicle outdoors in direct sunlight or in hot weather, the eyeglasses compartment can get very hot since it is close to the roof.
So, when parking in such conditions: • Do not leave eyeglasses in the compartment. The heat may distort plastic lenses or frames.
• Do not place flammable items, such as a lighter, in the compartment.
The heat may cause a fire.
NOTE:
An aftermarket garage door opener can be installed in the front side overhead console box.
See also:
Audio Systems
There are two types of audio system as shown below: Type 1 AM/FM/XM CD PLAYER WITH CD CHANGER CONTROL Type 2 AM/FM/XM 6-CD PLAYER WITH CD CHANGER CONTROL Precautions • When the inside o ...
Windshield Washer Fluid
Check that there is washer fluid in the tank by looking at the washer fluid level gauge which is attached to the cap of the washer fluid tank. If the fluid level is near "E" mark, refill i ...
A Stereo of Note
As a longtime audio freak as well as a car reviewer, I know that speaker counts, wattage claims and the term "premium stereo" mean nothing in the real world. I like to highlight when an ...