Engine Hood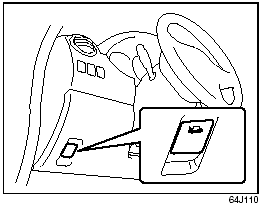 Engine Hood
To open the engine hood: 1) Pull the hood release handle located on the outboard side of the driver's side of the instrument panel. This will disengage the engine hood lock halfway.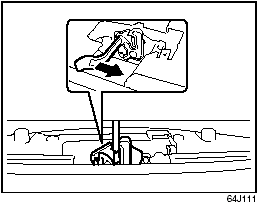 2) Push the under-hood release lever sideways with your finger, as shown in the illustration. While pushing the lever, lift up the engine hood.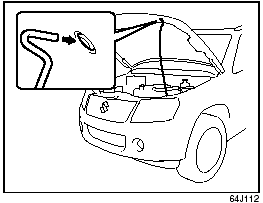 3) Continue to lift up the hood until it is high enough to support with the prop rod.
To close the engine hood: 1) Lift the hood up slightly and remove the prop rod from the hole. Put the prop rod back to the holding clip.
2) Lower the hood close to the bumper, then let it drop down.
Make sure the hood is securely latched after closing.

WARNING:
Make sure the hood is fully closed and latched before driving. If it is not, it can fly up unexpectedly during driving, obstructing your view and resulting in an accident.
See also:
Folding Seats
Folding Rear Seats To fold the rear seats forward: 1) Remove the luggage compartment cover. 2) Stow the seat belt buckles of the center and left seating position into the pocket of the seat cu ...
Inspection and Maintenance
WARNING: You should take extreme care when working on your vehicle to prevent accidental injury. Here are a few precautions that you should be especially careful to observe: • To prev ...
2010 Suzuki SX4 review By Bill Jackson
The 2010 Suzuki SX4 SportBack has decent handling, but it's not the car to bring to the drag strip if you want to win anything — even if it is supposed to be the performance version of Suzuki's ...