Fuel Filler Cap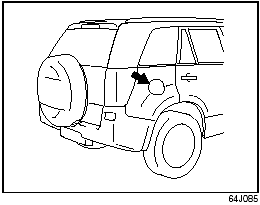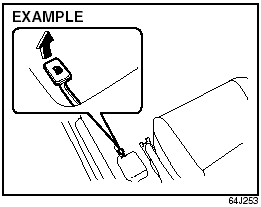 The fuel filler cap is located on the right rear side of the vehicle. The fuel filler door can be unlocked by pulling up on the opener lever located on the outboard side of the driver's seat and can be locked by simply closing the door.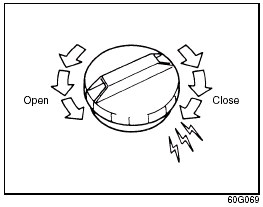 To remove the fuel filler cap: 1) Open the fuel filler door.
2) Remove the cap by turning it counterclockwise.

WARNING:
Remove the fuel filler cap slowly. The fuel may be under pressure and may spray out, causing injury.
To reinstall the fuel filler cap: 1) Turn the cap clockwise until you hear several clicks.
2) Close the fuel filler door.

WARNING:
Gasoline is extremely flammable. Do not smoke when refueling, and make sure there are no open flames or sparks in the area.

WARNING:
If you need to replace the fuel cap, use a genuine SUZUKI cap. Use of an improper cap can result in a malfunction of the fuel system or emission control system. It may also result in fuel leakage in the event of an accident.
See also:
If the Engine is Flooded
If the engine is flooded with gasoline, it may be hard to start. If this happens, press the accelerator pedal all the way to the floor and hold it there while cranking the engine. (Do not operate ...
Engine Hood
To open the engine hood: 1) Pull the hood release handle located on the outboard side of the driver's side of the instrument panel. This will disengage the engine hood lock half-way. 2) Pus ...