Parking Brake Lever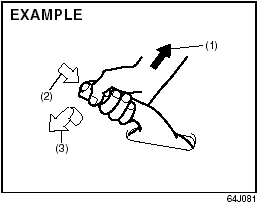 Parking Brake Lever

(1) To set
(2) To release
(3) To release
The parking brake lever is located between the seats. To set the parking brake, hold the brake pedal down and pull the parking brake lever all the way up. To release the parking brake, hold the brake pedal down, pull up slightly on the parking brake lever, push the button on the end of the lever with your thumb and lower the lever to its original position.
For automatic transmission vehicles, always set the parking brake before moving the gearshift lever to the "P" (Park) position. If you park on an incline and shift into "P" before you set the parking brake, the weight of the vehicle may make it difficult to shift out of "P" when you are ready to drive the vehicle. When preparing to drive the vehicle, move the gearshift lever out of the "P" position before releasing the parking brake.

WARNING:
• Never drive your vehicle with the parking brake set: rear brake effectiveness can be reduced from overheating, brake life may be
shortened or permanent brake damage may result.
• If the parking brake does not hold the vehicle securely or does not fully release, have your vehicle inspected immediately by an authorized SUZUKI dealer.

WARNING:
Always set the parking brake fully before leaving your vehicle or it may roll, causing injury or damage. When parking, make sure the gearshift lever for manual transmission vehicles is in 1st gear or "R" (Reverse) and the gearshift lever for automatic transmission vehicles is in "P" (Park). Never leave the transfer lever in "N" (Neutral) when you are parked.
Remember, even though the transmission is in gear or in Park, you must set the parking brake fully.
See also:
Headlight Aiming
Since special procedures are required, we recommend you take your vehicle to your SUZUKI dealer for headlight alignment. ...
Towing a Disabled Vehicle
Emergency Towing If your vehicle is disabled, it may be towed by a tow truck using one of the following methods: 1) Tow the vehicle with two wheels lifted by the tow truck and the other two whee ...
Catalytic Converter
Catalytic Converter The purpose of the catalytic converter is to minimize the amount of harmful pollutants in your vehicle's exhaust. Use of leaded fuel in vehicles equipped with catalytic co ...