Important
WARNING/CAUTION/NOTE Please read this manual and follow its instructions carefully. To emphasize special information, the symbol

and
the
words WARNING, CAUTION and NOTE have special meanings. Pay special attention to the messages highlighted by these signal words:

WARNING:
Indicates a potential hazard that could result in death or injury.
CAUTION:
Indicates a potential hazard that could result in vehicle damage.
NOTE:
Indicates special information to make maintenance easier or instructions clearer.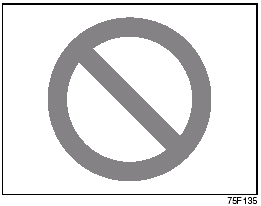 The circle with a slash in this manual means "Don't do this" or "Don't let this happen".
See also:
New for 2011
There are no significant changes for 2011. ...
Pure driving exhilaration
The Suzuki SX4 was engineered from the outset to offer all-wheel drive capability, yet still deliver sharp, dynamic performance. The inherent qualities of sporty hatchbacks are evident in the car' ...
A Stereo of Note
As a longtime audio freak as well as a car reviewer, I know that speaker counts, wattage claims and the term "premium stereo" mean nothing in the real world. I like to highlight when an ...