Fuses
Your vehicle has three types of fuses, as described below:
Main Fuse – The main fuse takes current directly from the battery.
Primary Fuses – These fuses are between the main fuse and individual fuses, and are for electrical load groups.
Individual Fuses – These fuses are for individual electrical circuits.
For details on protected circuits, refer to the "Fuses and Protected Circuits" section in this manual.
Fuses in the Engine Compartment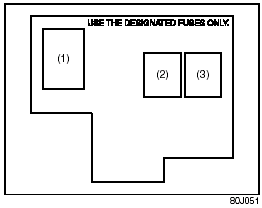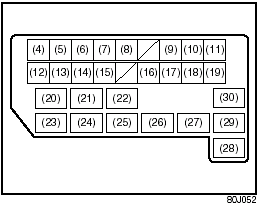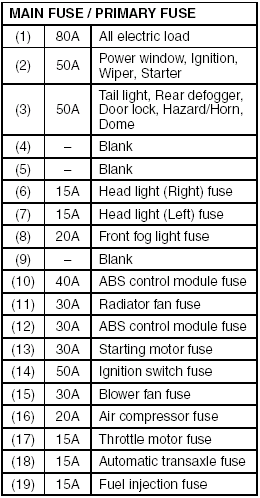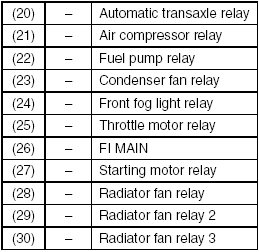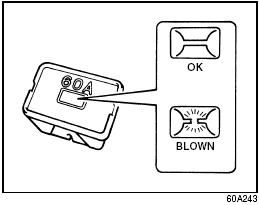 WARNING:
If the main fuse or a primary fuse blows, be sure to have your vehicle inspected by an authorized SUZUKI dealer. Always use a genuine SUZUKI replacement. Never use a substitute such as a wire even for a temporary fix, or extensive electrical damage and a fire can result.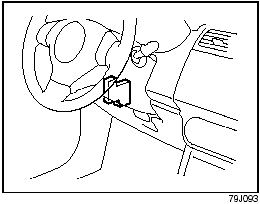 Fuses under the Dash Board
SX4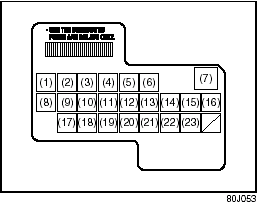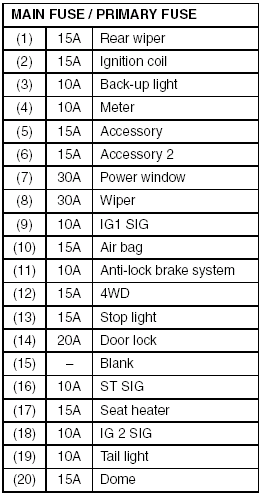 SX4 SEDAN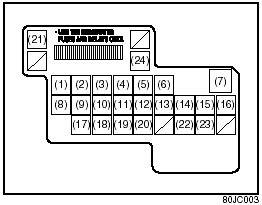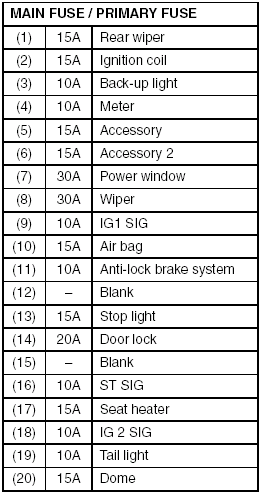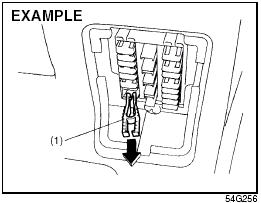 (1) Fuse puller
The fuses are also located under the driver's side of the dashboard. Remove the fuse box lid by pulling it off. To remove a fuse, use the fuse puller provided in the fuse box. The amperage of each fuse is shown on the top of the fuse box cover.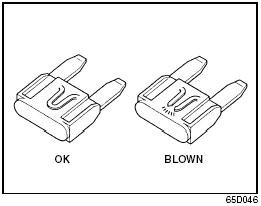 WARNING:
Always be sure to replace a blown fuse with a fuse of the correct amperage.
Never use a substitute such as aluminum foil or wire to replace a blown fuse. If you replace a fuse and the new one blows in a short period of time, you may have a major electrical problem. Have your vehicle inspected immediately by your SUZUKI dealer.
NOTE:
Make sure that the fuse box always carries spare fuses.
See also:
2008 Suzuki Grand Vitara review By Steven Cole Smith
The market for small sport utility vehicles is among the toughest in the automotive world: So many good products, but only so many buyers. What's a little manufacturer like Suzuki to do? Offer g ...
Lighting/Turn Signal Control Lever
Your vehicle's lighting system is controlled by three main systems: the Lighting switch, the Auto-On Headlight System (when the lighting switch is in the "AUTO" position) and the Daytime ...
Air Cleaner
Air Cleaner If the air cleaner is clogged with dust, there will be greater intake resistance, resulting in decreased power output and increased fuel consumption. Check and clean periodically ac ...