Battery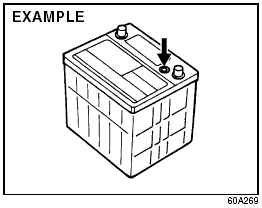 Battery


WARNING:
Batteries produce flammable hydrogen gas. Keep flames and sparks away from the battery or an explosion may occur. Never smoke when working near the battery.


WARNING:
When checking or servicing the battery, disconnect the negative cable.
Be careful not to cause a short circuit by allowing metal objects to contact the battery posts and the vehicle at the same time.


WARNING:
To avoid harm to yourself or damage to your vehicle or battery, follow the jump starting instructions in the "EMERGENCY SERVICE" section of this manual if it is necessary to jump start your vehicle.


WARNING:
Battery posts, terminals and related accessories contain lead and lead compounds. Wash hands after handling.
Your vehicle is equipped with a battery that requires infrequent maintenance. You will never have to add water. You should, however, periodically check the battery, battery terminals and battery hold-down bracket for corrosion. Remove corrosion using a stiff brush and ammonia mixed with water, or baking soda mixed with water. After removing corrosion, rinse with clean water.
The test indicator on the top of the battery provides information on the condition of the battery.
If your vehicle is not going to be driven for a month or longer, disconnect the cable from the negative terminal of the battery to help prevent discharge.
See also:
Information Display
Information Display (1) Clock. (2) Thermometer. (3) Instantaneous fuel consumption/Average fuel consumption/Driving range. (4) "H" button. (5) "M" button. (6) "DISP" button. (7) F ...
Jump Starting Instructions
WARNING: • Never attempt to jump start your vehicle if the battery appears to be frozen. Batteries in this condition may explode or rupture if jump starting is attempted. • When making ...
Vehicle Loading
Your vehicle was designed for specific weight capacities. The weight capacities of your vehicle are indicated by the Gross Vehicle Weight Rating (GVWR), the Gross Axle Weight Rating (GAWR, front ...