Listening to a CD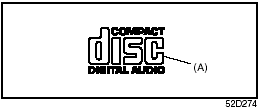 • CDs or CD-ROMs carrying no mark (A) cannot be used.
• Some discs previously recorded in CDR\ CD-RW format may not be used.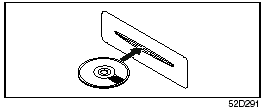 • A CD is inserted with its label facing upward.
• When there is a CD already loaded in the unit, another CD cannot be loaded at the same time. Do not use force when inserting the CD into the CD insertion slot.
• If a blank disc (non recorded CD-R) is loaded in the unit, the disc will be ejected.
CAUTION:
• Never insert your finger or hand into the CD insertion slot. Never insert foreign objects.
• Never insert a CD with glue coming out from adhesive tape or a rental CD label or with a trace indicating that adhesive tape or a rental CD label has been removed. This may cause the CD not to eject or result in a malfunction.
See also:
Cigarette Lighter and Ashtray (if equipped)
Cigarette Lighter (if equipped) The cigarette lighter will work when the ignition switch is in the "ACC" or "ON" position. To use the cigarette lighter, push it all the way into the rece ...
Break-In
CAUTION: The future performance and reliability of the engine depends on the care and restraint exercised during its early life. It is especially important to observe the following precautions d ...
If the Engine is Flooded
If the engine is flooded with gasoline, it may be hard to start. If this happens, press the accelerator pedal all the way to the floor and hold it there while cranking the engine. (Do not operate ...