Listening to a CD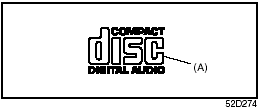 • CDs or CD-ROMs carrying no mark (A) cannot be used.
• Some discs previously recorded in CDR\ CD-RW format may not be used.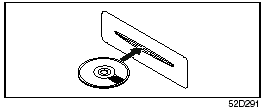 • A CD is inserted with its label facing upward.
• When there is a CD already loaded in the unit, another CD cannot be loaded at the same time. Do not use force when inserting the CD into the CD insertion slot.
• If a blank disc (non recorded CD-R) is loaded in the unit, the disc will be ejected.
CAUTION:
• Never insert your finger or hand into the CD insertion slot. Never insert foreign objects.
• Never insert a CD with glue coming out from adhesive tape or a rental CD label or with a trace indicating that adhesive tape or a rental CD label has been removed. This may cause the CD not to eject or result in a malfunction.
See also:
Anti-Theft Feature
Anti-Theft Feature (1) Power on/off knob (2) Track up button/Fast forward button (3) Preset buttons (1 to 6) The anti-theft feature is intended to discourage theft or the audio system by preven ...
Catalytic Converter
Catalytic Converter The purpose of the catalytic converter is to minimize the amount of harmful pollutants in your vehicle's exhaust. Use of leaded fuel in vehicles equipped with catalytic co ...
Kizashi in the Market
For what it is, the Kizashi is priced reasonably well, though Suzuki might be wise to lower the price as an incentive for buyers. Both the compact and midsize classes are crowded and include some ...