Spark Plugs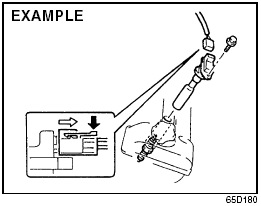 Spark Plugs
65D180
You should inspect spark plugs periodically for carbon deposits. When carbon accumulates on a spark plug, a strong spark may not be produced. Remove carbon deposits with a wire or pin and adjust the spark plug gap.
To access the spark plugs, 1) disconnect the coupler while pushing the release lever,
2) remove the bolt, and
3) pull the ignition coil out.
CAUTION:
• When servicing the iridium/platinum spark plugs (slender center electrode type plugs), do not touch the center electrode, as it is easy to damage.
• When installing the spark plugs, screw them in with your fingers to avoid stripping the threads. Tighten with a torque wrench to 25 Nm (2.5 kg-m, 18.0 lb-ft). Do not allow contaminants to enter the engine
through the spark plug holes when the plugs are removed.
• Never use spark plugs with the wrong thread size.
CAUTION:
When replacing spark plugs, you should use the brand and type specified for your vehicle. For the specified plugs, refer to the
"SPECIFICATIONS" section at the end of this book. If you wish to use a brand of spark plug other than the specified plugs, consult your SUZUKI dealer.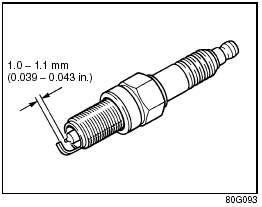 See also:
Jump Starting Instructions
WARNING: • Never attempt to jump start your vehicle if the battery appears to be frozen. Batteries in this condition may explode or rupture if jump starting is attempted. • When making jump ...
Driving on Slippery Roads
Driving on Slippery Roads Under wet road conditions you should drive at a lower speed than on dry roads due to possible slippage of tires during braking. When driving on icy, snow-covered, or m ...
Tire Changing Tool
Tire Changing Tool The jack, wheel brace and jack handle are stowed in the rear left corner of the luggage compartment. Remove the cover to access the tools. To remove the jack, turn its shaft ...