Spark Plugs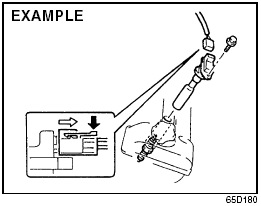 Spark Plugs
65D180
You should inspect spark plugs periodically for carbon deposits. When carbon accumulates on a spark plug, a strong spark may not be produced. Remove carbon deposits with a wire or pin and adjust the spark plug gap.
To access the spark plugs, 1) disconnect the coupler while pushing the release lever,
2) remove the bolt, and
3) pull the ignition coil out.
CAUTION:
• When servicing the iridium/platinum spark plugs (slender center electrode type plugs), do not touch the center electrode, as it is easy to damage.
• When installing the spark plugs, screw them in with your fingers to avoid stripping the threads. Tighten with a torque wrench to 25 Nm (2.5 kg-m, 18.0 lb-ft). Do not allow contaminants to enter the engine
through the spark plug holes when the plugs are removed.
• Never use spark plugs with the wrong thread size.
CAUTION:
When replacing spark plugs, you should use the brand and type specified for your vehicle. For the specified plugs, refer to the
"SPECIFICATIONS" section at the end of this book. If you wish to use a brand of spark plug other than the specified plugs, consult your SUZUKI dealer.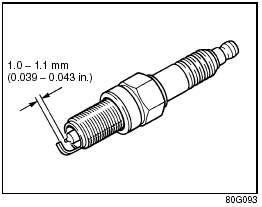 See also:
Overview
Built at Nissan's manufacturing facility in Smyrna, Tenn., the Suzuki Equator features a fuel efficient 2.5-liter DOHC inline four with 152 horsepower and 171 lb.-ft. of torque or an optional 4.0- ...
Interior
Suzuki has taken advantage of its expertise in the compact car segment to efficiently execute larger — yet still tidy — proportions that afford comfort and practicality without the wasted spac ...
Wiper Blades
Wiper Blades If the wiper blades become brittle or damaged, or make streaks when wiping, replace the wiper blades. To install new wiper blades, follow the procedures below. CAUTION: To avoid ...