Spark Plugs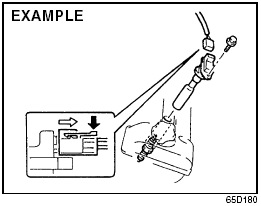 Spark Plugs
65D180
You should inspect spark plugs periodically for carbon deposits. When carbon accumulates on a spark plug, a strong spark may not be produced. Remove carbon deposits with a wire or pin and adjust the spark plug gap.
To access the spark plugs, 1) disconnect the coupler while pushing the release lever,
2) remove the bolt, and
3) pull the ignition coil out.
CAUTION:
• When servicing the iridium/platinum spark plugs (slender center electrode type plugs), do not touch the center electrode, as it is easy to damage.
• When installing the spark plugs, screw them in with your fingers to avoid stripping the threads. Tighten with a torque wrench to 25 Nm (2.5 kg-m, 18.0 lb-ft). Do not allow contaminants to enter the engine
through the spark plug holes when the plugs are removed.
• Never use spark plugs with the wrong thread size.
CAUTION:
When replacing spark plugs, you should use the brand and type specified for your vehicle. For the specified plugs, refer to the
"SPECIFICATIONS" section at the end of this book. If you wish to use a brand of spark plug other than the specified plugs, consult your SUZUKI dealer.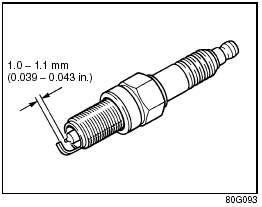 See also:
Off-Road
We drove an RMZ-4 Equator around several trails at Knibbe Ranch, about 55 miles north of San Antonio. The ranch, consisting of 2,000 acres of Texas hill country, is mostly covered with scrub oak a ...
"ESP OFF" Switch
"ESP OFF" Switch ESP® is a registered trademark of DaimlerChrysler AG. The "ESP OFF" switch is located on the center of the instrument panel. You can turn the ESP® systems (other than ...
Automatic Transmission Fluid
Specified Fluid Use an automatic transmission fluid SUZUKI ATF 3317 or Mobil ATF 3309. Fluid Level Check CAUTION: Driving with too much or too little fluid can damage the transmission. You must ...