Pedals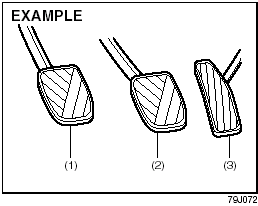 Manual transaxle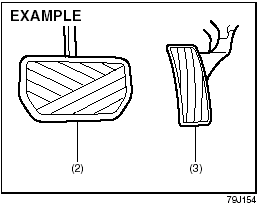 Automatic transaxle
Clutch Pedal (1)
(For manual transaxle).
The clutch pedal is used to disengage the drive to the wheels when starting the engine, stopping or shifting the gearshift lever. Depressing the pedal disengages the clutch.
CAUTION:
Do not drive with your foot resting on the clutch pedal. It could result in excessive clutch wear or clutch damage.
Brake Pedal (2)
Your SUZUKI vehicle is equipped with either front and rear disc brakes or front disc brakes and rear drum brakes.
Depressing the brake pedal applies both sets of brakes.
You may hear occasional brake squeal when you apply the brakes. This is a normal condition caused by environmental factors such as cold, wet, snow, etc.


WARNING:
If brake squeal is excessive and occurs each time the brakes are applied, you should have the brakes checked by your SUZUKI dealer.


WARNING:
Do not "ride" the brakes by applying them continuously or resting your foot on the pedal. This will result in overheating of the brakes which could cause unpredictable braking action, longer stopping distances or permanent brake damage.
Accelerator Pedal (3)
This pedal controls the speed of the engine. Depressing the accelerator pedal increases power output and speed.
See also:
Towing a Disabled Vehicle
Emergency Towing If your vehicle is disabled, it may be towed by a tow truck using one of the following methods: 1) Tow the vehicle with two wheels lifted by the tow truck and the other two whee ...
Leak Detection Pump
NOTE: Your vehicle has a pump to regularly check the vehicle's evaporative emission control system for leaks. This check is performed approximately five hours after the engine is turned off. Du ...
Lighting / Turn Signal Control Lever
Lighting Operation To turn the lights on or off, twist the knob on the end of the lever. There are three positions: in the "OFF" position all lights are off; in the middle position the front ...