Pedals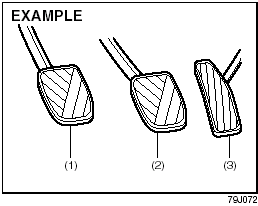 Manual transaxle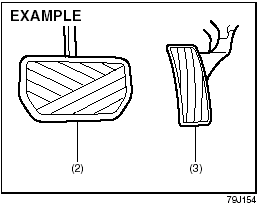 Automatic transaxle
Clutch Pedal (1)
(For manual transaxle).
The clutch pedal is used to disengage the drive to the wheels when starting the engine, stopping or shifting the gearshift lever. Depressing the pedal disengages the clutch.
CAUTION:
Do not drive with your foot resting on the clutch pedal. It could result in excessive clutch wear or clutch damage.
Brake Pedal (2)
Your SUZUKI vehicle is equipped with either front and rear disc brakes or front disc brakes and rear drum brakes.
Depressing the brake pedal applies both sets of brakes.
You may hear occasional brake squeal when you apply the brakes. This is a normal condition caused by environmental factors such as cold, wet, snow, etc.


WARNING:
If brake squeal is excessive and occurs each time the brakes are applied, you should have the brakes checked by your SUZUKI dealer.


WARNING:
Do not "ride" the brakes by applying them continuously or resting your foot on the pedal. This will result in overheating of the brakes which could cause unpredictable braking action, longer stopping distances or permanent brake damage.
Accelerator Pedal (3)
This pedal controls the speed of the engine. Depressing the accelerator pedal increases power output and speed.
See also:
Overview
Suzuki, known primarily as a maker of small vehicles and high-performance motorcycles, marks the global debut of the 2010 Suzuki Kizashi (pronounced "Kee-Zah-Shee"), the company's first ...
On-Board Vehicle Computers and Event Data Recorders
Your vehicle is equipped with on-board computer systems which monitor and control several aspects of vehicle performance, including the following: • Emission-related components and engine param ...
Cup Holder and Storage Bin (if equipped)
Cup holders and a storage bin are provided as shown. To access a bin, push the release button. To use the console bin, pull the lever up and open the lid. To use the rear cup holders, open ...