Cigarette Lighter and Ashtray (if equipped)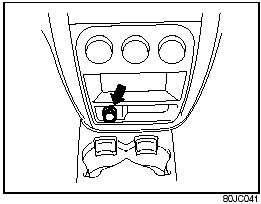 Cigarette Lighter (if equipped)
The cigarette lighter will work when the ignition switch is in the "ACC" or "ON" position.
To use the cigarette lighter, push it all the way into the receptacle and release it. It will automatically heat up and will pop out to its normal position when it is ready for use.
CAUTION:
Holding the cigarette lighter in can overheat and damage the lighter.
Release the lighter after you push it in.
CAUTION:
To avoid damage to the cigarette lighter socket, do not use it as an accessory power source. Some accessories' power plug can damage the inner mechanism of the cigarette lighter socket.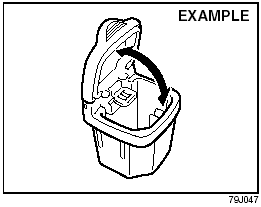 Ashtray (if equipped)
You can fit the ashtray into any of the cup holders on the center console.


WARNING:
Make sure tobacco is fully extinguished before closing the ashtrays.
Never throw waste in the ashtrays: it could create a fire hazard.
See also:
Sun Visor
Sun Visor The sun visors can be pulled down to block glare coming through the windshield, or they can be unhooked and turned to the side to block glare coming through the side window. CAUTION: ...
2009 Suzuki Equator review By G. Chambers Williams III
The obvious question is why Suzuki added a midsize pickup for 2009 when trucks are losing favor. "Why not?" responds an unapologetic Gene Brown, Suzuki's vice president of marketing. ...
Towing a Disabled Vehicle
Emergency Towing If your vehicle is disabled, it may be towed by a tow truck using one of the following methods: 1) Tow the vehicle with two wheels lifted by the tow truck and the other two whee ...