Windows
Power Window Controls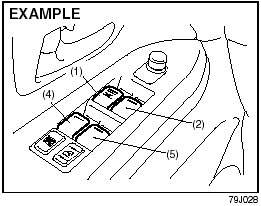 Driver's side
The power windows can only be operated when the ignition switch is in the "ON" position.
The driver's door has switches (1), (2), (4), (5), to operate the driver's window, the front passenger's window, the rear left window and the rear right window, respectively.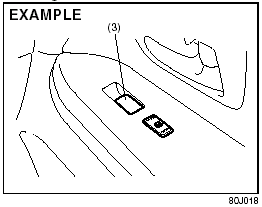 Passenger's door
The passenger's door only has a switch to operate the passenger's window (3).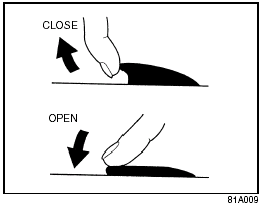 To open a window, push the top part of the switch and to close a window lift up the top part of the switch.
The driver's window has an auto-down feature for added convenience (at toll booths or drive-through restaurants, for example).
This means you can open the window without holding the window switch in the "Down" position. Press the driver's window switch completely down and release it. To stop the window before it reaches the bottom, pull the switch up briefly.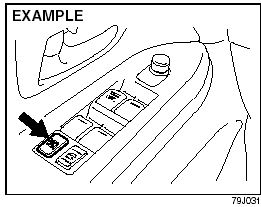 The driver's door also has a lock switch for the passenger's window. When you push in the lock switch, the passenger's window can not be raised or lowered by operating any of the switches (2), (3), (4) or (5). To restore normal operation, release the lock switch by pushing the switch again.


WARNING:
• You should always lock the passenger's window operation when there are children in the vehicle. Children can be seriously injured if they get part of their body caught by the window during operation.
• To avoid injuring an occupant by window entrapment, be sure no part of the occupant's body such as hands or head is in the path of the electric windows when closing them.
• Always remove the ignition key when leaving the vehicle even if a short time. Also do not leave children alone in a parked vehicle.
Unattended children could use the electric window switches and get trapped by the window.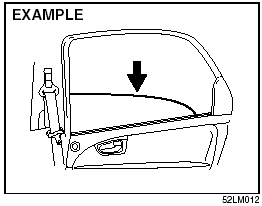 NOTE:
The rear door windows are not designed to open fully. They can be opened about 2/3 of the way down.
NOTE:
If you drive with one of the rear windows open, you may hear a loud sound caused by air vibration. To reduce the sound, open the driver's or front passenger's window, or narrow the rear window opening.
See also:
Safety Certification Label
Safety Certification Label This label contains important safetyrelated information about your vehicle. The label is located on the driver's door lock pillar. ...
Balance of form and function
The Suzuki SX4 comfortably accommodates up to five people and their luggage needs, while retaining a sleek and stylish look. The 4WD models have exterior length-width-height dimensions of 4,150mm ...
Instrument Panel
Instrument Panel 1. Instrument cluster 2. Ignition switch 3. Lighting switch/Turn signal and dimmer switch 4. Windshield wiper and washer switch/Rear window wiper and washer switch 5. Hazard wa ...