Important

WARNING/CAUTION/NOTE.

Please read this manual and follow its instructions carefully. To emphasize special information, the symbol

and
the
words WARNING, CAUTION and NOTE have special meanings. Pay special attention to the messages highlighted by these signal words:


WARNING:
Indicates a potential hazard that could result in death or injury.
CAUTION:
Indicates a potential hazard that could result in vehicle damage.
NOTE:
Indicates special information to make maintenance easier or instructions clearer.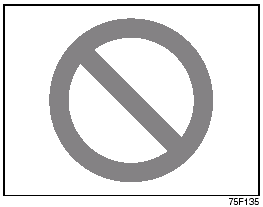 The circle with a slash in this manual means "Don't do this" or "Don't let this happen".
See also:
Appearance Care
...
Fuel Recommendation
Your vehicle requires regular unleaded gasoline with a minimum rating of 87 pump octane ((R + M)/2 method). In some areas, the only fuels that are available are oxygenated fuels. Oxygenated f ...
Exterior & Styling
One good thing I can say about the Grand Vitara is that it's relatively distinctive looking. It has some similarities to earlier-generation Saturn Vues, and whether you like it or not is for you t ...