Jacking Instructions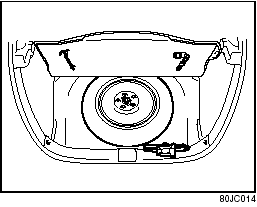 SX4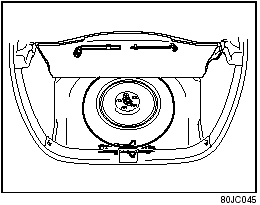 SX4 SEDAN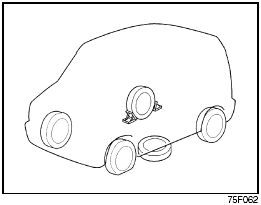 1) Place the vehicle on level, hard ground.
2) Set the parking brake firmly and shift into "P" (Park) if your vehicle has an automatic transaxle, or shift into "R" (Reverse) if your vehicle has a manual transaxle.


WARNING:
• Be sure to shift into "P" (Park) for an automatic transaxle vehicle, or into "R" (Reverse) for a manual transaxle vehicle when you jack up the vehicle.
• Never jack up the vehicle with the transaxle in "N" (Neutral). Otherwise, an unstable jack may cause an accident.
3) Turn on the hazard warning flasher if your vehicle is near traffic.
4) Block the front and rear of the wheel diagonally opposite of the wheel being lifted.
5) Place the spare wheel near the wheel being lifted as shown in the illustration in case that the jack slips.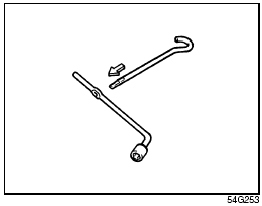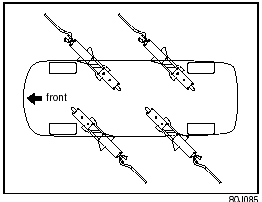 6) Position the jack at an angle as shown in the illustration and raise the jack by turning the jack handle clockwise until the jack-head groove fits around the jacking bar beneath the vehicle body.
7) Continue to raise the jack slowly and smoothly until the tire clears the ground. Do not raise the vehicle more than necessary.


WARNING:
• Use the jack only to change wheels.
• Never jack up the vehicle on an inclined surface.
• Never raise the vehicle with the jack in a location other than the specified jacking point (shown in the illustration) near the wheel to be changed.
• Make sure that the jack is raised at least 51 mm (2 inches) before it contacts the flange. Use of the jack when it is within 51 mm (2 inches) of being fully collapsed may result in failure of the jack.
• Never get under the vehicle when it is supported by the jack.
• Never run the engine when the vehicle is supported by the jack and never allow passengers to remain in the vehicle.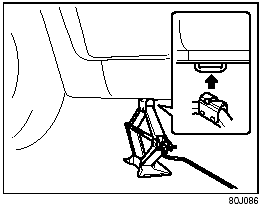 Front wheel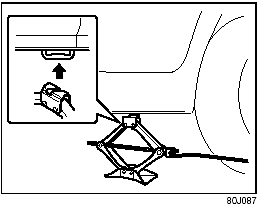 Rear wheel
See also:
Over the Ice & Through the Snow
A white Christmas gave me plenty of opportunities to test the all-wheel drive, and the Kizashi proved to be a competent snowmobile. Now, the Kizashi has a feature that's rare among cars with all-w ...
Spark Plugs
Spark Plugs Spark Plugs You should inspect spark plugs periodically for carbon deposits. When carbon accumulates on a spark plug, a strong spark may not be produced. Remove carbon deposits w ...
Mirrors
Inside Rearview Mirror Inside Rearview Mirror You can adjust the inside rearview mirror by hand so as to see the rear of your vehicle in the mirror. To adjust the mirror, set the selector tab ...