Air Cleaner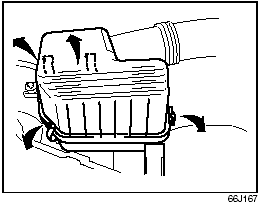 Air Cleaner
If the air cleaner is clogged with dust, there will be greater intake resistance, resulting in decreased power output and increased fuel consumption.
Check and clean periodically according to the following procedure: 1) Take off the air cleaner case cover.
Remove the element from the air cleaner case cover.
2) This air cleaner element is of dry type.
Remember that it needs cleaning according to the following method.
3) Blow off dust on cleaner element by compressed air from inside the element, or replace the element as necessary.
CAUTION:
The air cleaner element should be replaced every 50000 km (30000 miles). More frequent replacement is necessary when you drive under dusty conditions.
See also:
Automatic Transmission Fluid
Specified Fluid Use an automatic transmission fluid SUZUKI ATF 3317 or Mobil ATF 3309. Fluid Level Check CAUTION: Driving with too much or too little fluid can damage the transmission. You must ...
Spot Light
Spot Light Push the switch to turn on the light and push it again to turn off the light. ...
Anti-Theft Feature
Anti-Theft Feature (1) Power on/off knob (2) Track up button/Fast forward button (3) Preset buttons (1 to 6) The anti-theft feature is intended to discourage theft or the audio system by preven ...