Air Cleaner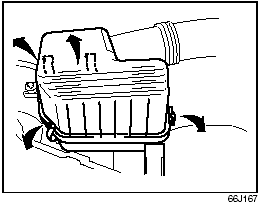 Air Cleaner
If the air cleaner is clogged with dust, there will be greater intake resistance, resulting in decreased power output and increased fuel consumption.
Check and clean periodically according to the following procedure: 1) Take off the air cleaner case cover.
Remove the element from the air cleaner case cover.
2) This air cleaner element is of dry type.
Remember that it needs cleaning according to the following method.
3) Blow off dust on cleaner element by compressed air from inside the element, or replace the element as necessary.
CAUTION:
The air cleaner element should be replaced every 50000 km (30000 miles). More frequent replacement is necessary when you drive under dusty conditions.
See also:
Cigarette Lighter and Ashtray
Cigarette Lighter (if equipped) To use the cigarette lighter, push it all the way into the receptacle and release it. It will automatically heat up and will pop out to its normal position when i ...
2010 Suzuki SX4 review By Bill Jackson
The 2010 Suzuki SX4 SportBack has decent handling, but it's not the car to bring to the drag strip if you want to win anything — even if it is supposed to be the performance version of Suzuki's ...
Manual Heating and Air Conditioning System
Description of Controls Temperature selector (1) This is used to select the temperature by turning the selector. Blower speed selector (2) This is used to turn on the blower and to select blow ...