Automatic Transaxle Fluid
Specified Fluid
Use an automatic transaxle fluid equivalent to DEXRON®-III.
Fluid Level Check
CAUTION:
Driving with too much or too little fluid can damage the transaxle.
You must check the fluid level with the automatic transaxle fluid at normal operating temperature.
To check the fluid level: 1) To warm up the transaxle fluid, drive the vehicle or idle the engine until the temperature gauge indicates normal operating temperature.
2) Then drive for ten more minutes.
NOTE:
Do not check the fluid level if you have just driven the vehicle for a long time at high speed, or if you have driven in city traffic in hot weather. Wait until the fluid cools down (about 30 minutes), or the fluid level indication will not be correct.
3) Park your vehicle on level ground.
4) Apply the parking brake and then start the engine in "P" (Park). Let it idle for two minutes and keep it running during the fluid level check.
5) With your foot on the brake pedal, move the gearshift lever through each gear, pausing for about three seconds in each range. Then move it back to the "P" (Park) position.


WARNING:
Be sure to depress the brake pedal when moving the gearshift lever, or the vehicle can move suddenly.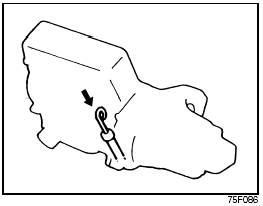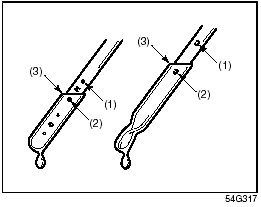 (1) FULL
(2) LOW
(3) The lowest point = Fluid level
6) The handle of the A/T fluid dipstick is colored red for easy identification.
Remove the dipstick, clean it and push it back in until the cap seats. Pull out the dipstick and read the fluid level.
The fluid level should be between the two marks in the "HOT" range on the dipstick.
7) Add just enough specified fluid through the dipstick hole to fill the transaxle to the proper level. It takes only 0.4 liters (0.85 US pt) for 4-speed automatic transaxle to raise the level from "LOW" to "FULL".
CAUTION:
After checking or adding oil, be sure to insert the dipstick securely.
Changing Oil
Since special procedures, materials and tools are required to change the automatic transaxle oil, it is recommended that you trust this job to your authorized SUZUKI dealer.
See also:
Remote Audio Controls (if equipped)
Remote Audio Controls (if equipped) You can control basic functions of the audio system with the switches on the steering wheel. To control the volume: • To increase the volume, push the upper ...
Daily Inspection Checklist
Before Driving 1) Make sure that windows, mirrors, lights and reflectors are clean and unobstructed. 2) Visually check the tires for the following points: – the depth of the tread groove. – abno ...
Reporting Safety Defects
If you believe that your vehicle has a defect which could cause a crash or could cause injury or death, you should immediately inform the National Highway Traffic Safety Administration (NHTSA) in ...