If the Engine Overheats
The engine could overheat temporarily under severe driving conditions. If the engine coolant temperature gauge indicates overheating during driving: 1) Turn off the air conditioner, if equipped.
2) Take the vehicle to a safe place and park.
3) Let the engine run at normal idle speed for a few minutes until the indicator is within the normal, acceptable temperature range shown by the white band between "H" and "C".

WARNING:
If you see or hear escaping steam, stop the vehicle in a safe place and immediately turn off the engine to let it cool. Do not open the hood when steam is present. When the steam can no longer be seen or heard, open the hood to see if the coolant is still boiling. If it is, you must wait until it stops boiling before you proceed.
Also, be careful not to touch hot engine parts (radiator, water hoses, engine etc.).
If the temperature indication does not come down to within the normal, acceptable range:
1) Turn off the engine and check that the water pump belt and pulleys are not damaged or slipping. If any abnormality is found, correct it.
2) Check the coolant level in the reservoir.
If it is found to be lower than the "LOW" line, look for leaks at the radiator, water pump and radiator and heater hoses. If you locate any leaks that may have caused the overheating, do not run the engine until these problems have been corrected.
3) If you do not find a leak, carefully add coolant to the reservoir and then the radiator, if necessary. (Refer to "Engine Coolant" in the "INSPECTION AND MAINTENANCE" section.)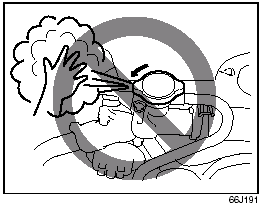 WARNING:
• It is hazardous to remove the radiator cap when the water temperature is high, because scalding fluid and steam may be blown out under pressure. The cap should only be taken off when the coolant temperature has lowered.
• To prevent personal injury, keep hands, tools and clothing away from the engine cooling fan and airconditioner fan (if equipped). These electric fans can automatically turn on without warning.
See also:
Chassis
The Suzuki SX4 provides crisp, predictable handling designed to satisfy European driving tastes. This has been achieved by carefully matching the suspension characteristics to the highly rigid pla ...
Battery
Battery WARNING: Batteries produce flammable hydrogen gas. Keep flames and sparks away from the battery or an explosion may occur. Never smoke when working near the battery. WARNING ...
Brakes
Brake Fluid Check the brake fluid level by looking at the reservoir in the engine compartment. Check that the fluid level is between the "MAX" and "MIN" lines. If the brake fluid level ...