If the Engine Overheats
The engine could overheat temporarily under severe driving conditions. If the engine coolant temperature gauge indicates overheating during driving: 1) Turn off the air conditioner, if equipped.
2) Take the vehicle to a safe place and park.
3) Let the engine run at normal idle speed for a few minutes until the indicator is within the normal, acceptable temperature range shown by the white band between "H" and "C".

WARNING:
If you see or hear escaping steam, stop the vehicle in a safe place and immediately turn off the engine to let it cool. Do not open the hood when steam is present. When the steam can no longer be seen or heard, open the hood to see if the coolant is still boiling. If it is, you must wait until it stops boiling before you proceed.
Also, be careful not to touch hot engine parts (radiator, water hoses, engine etc.).
If the temperature indication does not come down to within the normal, acceptable range:
1) Turn off the engine and check that the water pump belt and pulleys are not damaged or slipping. If any abnormality is found, correct it.
2) Check the coolant level in the reservoir.
If it is found to be lower than the "LOW" line, look for leaks at the radiator, water pump and radiator and heater hoses. If you locate any leaks that may have caused the overheating, do not run the engine until these problems have been corrected.
3) If you do not find a leak, carefully add coolant to the reservoir and then the radiator, if necessary. (Refer to "Engine Coolant" in the "INSPECTION AND MAINTENANCE" section.)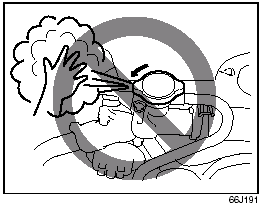 WARNING:
• It is hazardous to remove the radiator cap when the water temperature is high, because scalding fluid and steam may be blown out under pressure. The cap should only be taken off when the coolant temperature has lowered.
• To prevent personal injury, keep hands, tools and clothing away from the engine cooling fan and airconditioner fan (if equipped). These electric fans can automatically turn on without warning.
See also:
Assist Grips (if equipped)
Assist Grips (if equipped) Assist grips are provided for convenience. ...
On-Pavement Driving
Government data show that most rollover accidents for multi-purpose vehicles are caused when a driver loses control of the vehicle and leaves the paved portion of the roadway striking a ditch, cur ...
Tire Changing Tool
Tire Changing Tool The jack, wheel brace and jack handle are stowed in the rear left corner of the luggage compartment. Remove the cover to access the tools. To remove the jack, turn its shaft ...