Clutch Pedal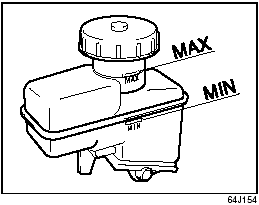 Clutch Pedal
Check the clutch pedal for smooth operation and clutch fluid level from time to time.
If clutch dragging is felt with the pedal fully depressed, have the clutch inspected by your SUZUKI dealer. If the clutch fluid level is near the "MIN" line, fill it up to the "MAX" line with DOT3 brake fluid.
See also:
Door Locks
WARNING: Always lock all doors when driving. Locking the doors helps to prevent occupants from being thrown from the vehicle in the event of an accident. It also helps prevent unintended openin ...
Vehucle Loading and Towing
...
Driving on Slippery Roads
Driving on Slippery Roads Under wet road conditions you should drive at a lower speed than on dry roads due to possible slippage of tires during braking. When driving on icy, snow-covered, or m ...