Windshield Washer Fluid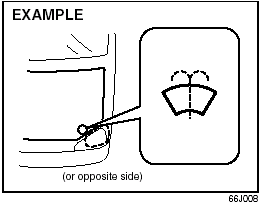 Front and rear (if equipped)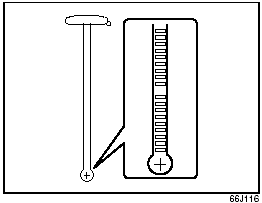 Check that there is washer fluid in the tank by looking at the washer fluid level gauge which is attached to the cap of the washer fluid tank. If the fluid level is near empty, refill it.
Use a good quality windshield washer fluid, diluted with water as necessary.

WARNING:
Do not use "anti-freeze" solution in the windshield washer reservoir. This can severely impair visibility when sprayed on the windshield, and also damage your vehicle's paint.
CAUTION:
Damage may result if the washer motor is operated with no fluid in the washer tank.
See also:
Temperature Gauge
Temperature Gauge When the ignition switch is in the "ON" position, this gauge indicates the engine coolant temperature. Under normal driving conditions, the indicator should stay within th ...
Air Cleaner
Air Cleaner If the air cleaner is clogged with dust, there will be greater intake resistance, resulting in decreased power output and increased fuel consumption. Check and clean periodically ac ...
Overview
Suzuki, known primarily as a maker of small vehicles and high-performance motorcycles, marks the global debut of the 2010 Suzuki Kizashi (pronounced "Kee-Zah-Shee"), the company's first ...