Important Vehicle Design Features To Know

WARNING:
Your multipurpose vehicle has handling characteristics that differ from those of a conventional passenger car. For the safety of you and your passengers, please read the following section very carefully.
Multipurpose vehicles such as your new SUZUKI have higher ground clearance and a narrower track than conventional passenger cars, to make them capable of performing in a wide variety of off-road applications. Specific design characteristics give them a higher center of gravity than ordinary cars. An advantage of the higher ground clearance is a better view of the road allowing you to anticipate problems.
They are not designed for cornering at the same speed as conventional passenger cars any more than low-slung sports cars are designed to perform satisfactorily under off-road conditions. If at all possible, avoid sharp turns or abrupt maneuvers. As with other vehicles of this type, failure to operate this vehicle correctly may result in loss of control or vehicle rollover.
Multipurpose vehicles have a significantly higher rollover rate than other types of vehicles.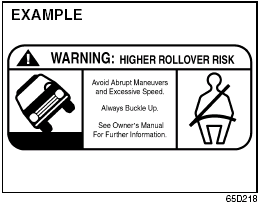 In a rollover crash, an unbelted person is significantly more likely to die than a person wearing a seat belt.
Important Differences Between Your Multipurpose Vehicle and Ordinary Passenger Cars
Higher Ground Clearance
The higher ground clearance of your vehicle enables it to clear off-road obstacles, such as rocks and tree stumps, that ordinary passenger cars can not drive over. An unavoidable result of this higher ground clearance is that the vehicle also has a higher center of gravity. Consequently, your vehicle will handle differently than a vehicle with a lower center of gravity.
Shorter Wheelbase
Along with its higher ground clearance, your vehicle has a shorter wheelbase and shorter front and rear overhangs than many passenger cars. These features combine to allow you to drive your vehicle over hillcrests without hanging up on them or damaging the frame and chassis components.
The shorter wheelbase also makes the steering of your vehicle more responsive than that of vehicles with longer wheelbases.
Narrower Body Width and Track
Your vehicle is narrower than the average passenger car so that it can pass through tight spaces.
Without the essential characteristics described above: higher ground clearance, shorter wheelbase and narrower body width and track – your vehicle could not provide you with excellent off road driving performance. However, it is also true that on-pavement driving, handling and steering will be different from what drivers experience with a conventional passenger car.
See also:
Bed Design
The RMZ-4 Equator's bed design helps make it ideal for outdoor enthusiasts. It's a high-utility design, starting with a spray-on, textured bedliner that's applied at the factory and an engineered ...
Cigarette Lighter and Ashtray
Cigarette Lighter (if equipped) To use the cigarette lighter, push it all the way into the receptacle and release it. It will automatically heat up and will pop out to its normal position when i ...
Grand Vitara in the Market
American automakers get a lot of criticism for their bad decisions in the sport utility arena. There was too much emphasis on the truck-based type, and they're paying the price. Suzuki proves with ...