Catalytic Converter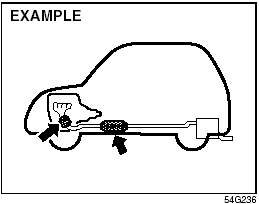 Catalytic Converter
The purpose of the catalytic converter is to minimize the amount of harmful pollutants in your vehicle's exhaust. Use of leaded fuel in vehicles equipped with catalytic converters is prohibited by federal law, because lead deactivates the pollutantreducing components of the catalyst system.
The converter is designed to last the life of the vehicle under normal usage and when unleaded fuel is used. No special maintenance is required on the converter. However, it is very important to keep the engine properly tuned. Engine misfiring, which can result from an improperly tuned engine, may cause overheating of the catalyst.
This may result in permanent heat damage to the catalyst and other vehicle components.
CAUTION:
To minimize the possibility of catalyst or other vehicle damage: • Maintain the engine in the proper operating condition.
• In the event of an engine malfunction, particularly one involving engine misfire or other apparent loss of performance, have the vehicle serviced promptly.
• Do not shut off the engine or interrupt the ignition when the transmission is in gear and the vehicle is in motion.
• Do not try to start the engine by pushing or towing the vehicle or coasting down a hill.
• Do not idle the engine with any spark plug wires disconnected or removed, such as during diagnostic testing.
• Do not idle the vehicle for prolonged periods if idling seems
rough or there are other malfunctions.
• Do not allow the fuel tank to get near the empty level.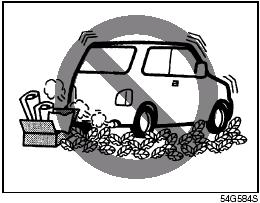 WARNING:
Be careful where you park and drive; the catalytic converter and other exhaust components can get very hot. As with any vehicle, do not park or operate this vehicle in areas where combustible materials such as dry grass or leaves can come in contact with a hot exhaust system.
See also:
Assist Grips (if equipped)
Assist Grips (if equipped) Assist grips are provided for convenience. ...
Overview
Recognized by AutoPacific as the "ideal" compact SUV/off-road vehicle, Suzuki Grand Vitara surpasses other SUVs in its size and price category in balancing off-road capability with the v ...
Suzuki SX4 in the Market
If my experience driving around Chicago is any indicator, there's quite a market for small, sporty-looking hatchbacks. Most of them are heavily modified used cars, and against this benchmark the S ...