Engine Block Heater (if equipped)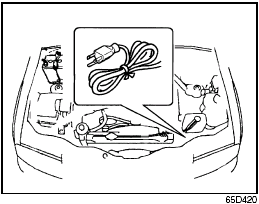 Engine Block Heater (if equipped)
The engine block heater will help you start the engine more easily in very cold weather (–18°C (0°F) or below). To use the engine block heater:
1) Turn off the engine.
2) Open the engine hood.
3) Untie the block heater cord and remove the block heater plug cap. When the engine block heater is not in use, ensure the heater cord is secured to prevent contact with any moving parts.
4) Using a heavy-duty, three-prong grounded extension cord, plug the female end into the block heater socket and the male end into a normal, grounded 110-volt AC outlet.
NOTE:
Activate the heater at least four hours before you start the engine. However, as the heating time varies depending on the ambient temperature and other factors, adjust the time by observing the engine cranking condition.

WARNING:
To avoid serious personal injury caused by electrical shock or fire: • Do not plug the cord into a nongrounded outlet. Only use a properly grounded three-prong 110-volt AC outlet.
• Do not use a 2-wire (non-grounded) extension cord.
• Only use a heavy-duty, three-prong extension cord rated for at least 15 amps.
After using the block heater: 1) Unplug the extension cord and reinstall the plug cap.
2) Tie the block heater cord back to its original position.
CAUTION:
Secure the block heater cord back to its original position or to the routed position. A loose cord could get caught in the engine accessory drive belt(s) or other moving parts.
3) Close the engine hood securely before starting the engine.
See also:
Basic Operations
Basic Operations (1) Power on/off knob, Volume control knob (2) Tone/balance/fader control knob (3) Preset button 5 (4) Preset button 6 Turning power on/off Press the power on/off knob (1). T ...
Vehicle Loading
Vehicle Loading Your vehicle was designed for specific weight capacities. The weight capacities of your vehicle are indicated by the Gross Vehicle Weight Rating (GVWR), the Gross Axle Weight Ra ...
Audio Systems
There are two types of audio system as shown below: Type 1 AM/FM/XM CD PLAYER WITH CD CHANGER CONTROL Type 2 AM/FM/XM 6-CD PLAYER WITH CD CHANGER CONTROL Precautions • When the inside o ...