Transfer Switch (if equipped)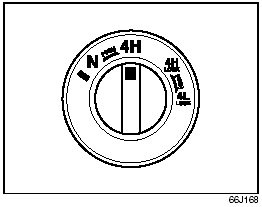 Transfer Switch (if equipped)
The transfer switch is located on the center of the instrument panel.
For details on how to use this switch, refer to "Using the Transfer Switch" in the "OPERATING YOUR VEHICLE" section.
See also:
Daily Inspection Checklist
Before Driving 1) Make sure that windows, mirrors, lights and reflectors are clean and unobstructed. 2) Visually check the tires for the following points: – the depth of the tread groove. – ...
Clutch Pedal
Clutch Pedal Check the clutch pedal for smooth operation and clutch fluid level from time to time. If clutch dragging is felt with the pedal fully depressed, have the clutch inspected by your S ...
Emission Compliance Label (for U.S.A.)
Emission Compliance Label (for U.S.A.) The EPA emission compliance label is located under the hood. ...