Rear Window Defroster and Outside Rearview Mirrors Defroster (if equipped) Switch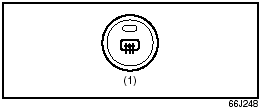 Rear Window Defroster and Outside Rearview Mirrors Defroster (if equipped) Switch
When the rear window is fogged, push this switch to clear the window.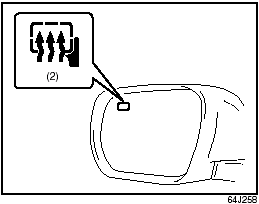 If the outside rearview mirror has the mark (2), it is also equipped with the outside rearview mirrors defroster. When you push the switch (1), both the outside rearview mirrors defroster and the rear window defroster will operate simultaneously.
An indicator light will be lit when the defroster is on. The defroster will only work when the engine is running. To turn off the defroster, push the switch again.
CAUTION:
The rear window defroster and the outside rearview mirrors use a large amount of electricity. Be sure to turn off the defroster after the window has become clear.
See also:
Fuel Filler Cap
The fuel filler cap is located on the right rear side of the vehicle. The fuel filler door can be unlocked by pulling up on the opener lever located on the outboard side of the driver's seat ...
Using the Transfer Switch (if equipped)
Using the Transfer Switch (if equipped) Your vehicle is equipped with a four-mode full-time 4x4 system. You can use the transfer switch to select any of the four modes: N, 4H, 4H LOCK, 4L LOCK. ...
Exhaust Gas Warning
WARNING: Avoid breathing exhaust gases. Exhaust gases contain carbon monoxide, a potentially lethal gas that is colorless and odorless. Since carbon monoxide is difficult to detect by itself, ...