Rear Window Defroster and Outside Rearview Mirrors Defroster (if equipped) Switch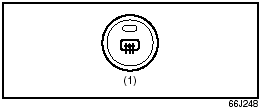 Rear Window Defroster and Outside Rearview Mirrors Defroster (if equipped) Switch
When the rear window is fogged, push this switch to clear the window.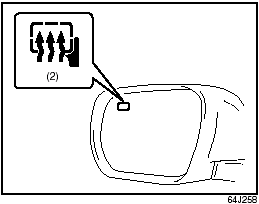 If the outside rearview mirror has the mark (2), it is also equipped with the outside rearview mirrors defroster. When you push the switch (1), both the outside rearview mirrors defroster and the rear window defroster will operate simultaneously.
An indicator light will be lit when the defroster is on. The defroster will only work when the engine is running. To turn off the defroster, push the switch again.
CAUTION:
The rear window defroster and the outside rearview mirrors use a large amount of electricity. Be sure to turn off the defroster after the window has become clear.
See also:
Towing a Disabled Vehicle
Emergency Towing If your vehicle is disabled, it may be towed by a tow truck using one of the following methods: 1) Tow the vehicle with two wheels lifted by the tow truck and the other two whee ...
Engine Block Heater (if equipped)
Engine Block Heater (if equipped) The engine block heater will help you start the engine more easily in very cold weather (–18°C (0°F) or below). To use the engine block heater: 1) Turn off ...
Styling and Utility
The all-new Equator features a contemporary exterior design with a number of unique Suzuki elements, including hood, front fenders, grille, bumpers, front fascia and tailgate. Both Equator Extende ...