Seat Adjustment

WARNING:
Never attempt to adjust the driver's seat or seatback while driving. The seat or seatback could move unexpectedly, causing loss of control.
Make sure that the driver's seat and seatback are properly adjusted before you start driving.

WARNING:
To avoid excessive seat belt slack, which reduces the effectiveness of the seat belts as a safety device, make sure that the seats are adjusted before the seat belts are fastened.
Adjusting Seat Position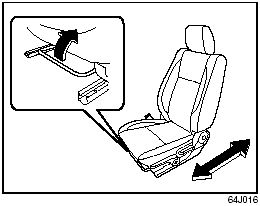 Front seat
The adjustment lever for each front seat is located under the front of the seat. To adjust the seat position, pull up on the adjustment lever and slide the seat forward or rearward. After adjustment, try to move the seat forward and rearward to ensure that it is securely latched.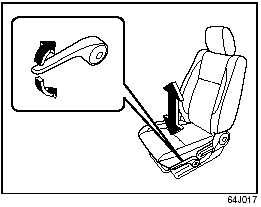 If the driver's seat is equipped with a seat height adjuster lever on the outboard side of the seat, raise or lower the seat by pulling up or down the adjuster lever.
Adjusting Seatbacks

WARNING:
All seatbacks should always be in an upright position when driving, or seat belt effectiveness may be reduced.
Seat belts are designed to offer maximum protection when seatbacks are in the upright position.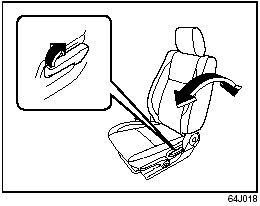 Front seat
To adjust the seatback angle of front seat, pull up the lever on the outboard side of the seat, move the seatback to the desired position, and release the lever to lock the seatback in place.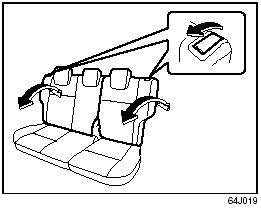 Rear seat
To adjust the seatback angle of the rear seats:
1) Pull up the lever on the top of a split folding seat.
2) Move the seatback to one of the lock positions. The number of the lock positions depends on the vehicle specification.
3) Release the lever to lock the seatback in position. After adjustment, try moving the seatback to make sure it is securely locked.
See also:
The Name
Kizashi! There's something about recent Japanese car names — or at least names from Japanese car companies — that inspire us to bellow them. It started with Toyota: Venza! Now it's Suzuki: Kiz ...
Catalytic Converter
Catalytic Converter The purpose of the catalytic converter is to minimize the amount of harmful pollutants in your vehicle's exhaust. Use of leaded fuel in vehicles equipped with catalytic co ...
If the Engine is Flooded
If the engine is flooded with gasoline, it may be hard to start. If this happens, press the accelerator pedal all the way to the floor and hold it there while cranking the engine. (Do not operate ...