Gear Oil
Specified Gear Oil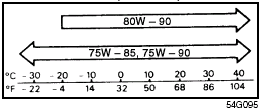 Manual transaxle (API GL-4)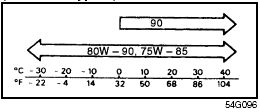 Rear differential oil (i-AWD)/Transfer oil of automatic transaxle model (i-AWD) (API GL-5 Hypoid)
When replacing gear oil, use the appropriate viscosity and grade as shown in the charts below.
We highly recommend you use: API GL-4 SAE 75W-90 for manual transaxle gear oil
API GL-5 hypoid gear oil SAE 80W-90 for rear differential oil (i-AWD) and transfer oil of automatic transaxle model (i-AWD)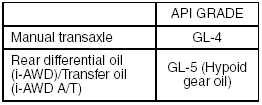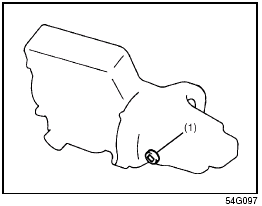 Manual transaxle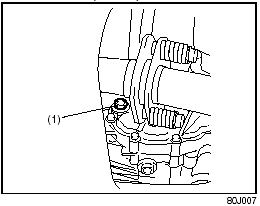 Transfer case (i-AWD)
(1) Oil filler and level plug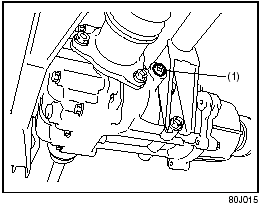 Rear differential (i-AWD)
(1) Oil filler and level plug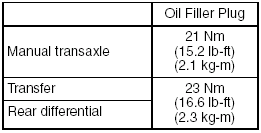 Tightening torque
Gear Oil Level Check
The manual transaxle, transfer gears (i- AWD A/T) and rear differential (i-AWD) are lubricated with gear oil. To check the gear oil level in any of the above locations, use the following procedure: 1) Park the vehicle on a level surface. Set parking brake and stop the engine.
2) Remove the oil filler plug (1).
3) Check the inside of the hole with your finger. If the oil level comes up to the bottom of the plug hole, the oil level is correct. If so, reinstall the plug.
4) If the oil level is low, add gear oil through the filler plug hole (1) until the oil level reaches the bottom of the filler hole.
Gear Oil Replacement
Since special procedures, materials and tools are required to change the automatic transaxle oil, it is recommended that you trust this job to your authorized SUZUKI dealer.
See also:
Wiper Blades
If the wiper blades become brittle or damaged, or make streaks when wiping, replace the wiper blades. To install new wiper blades, follow the procedures below. CAUTION: To avoid scratching or ...
Tires
For safe operation of your vehicle, it is important that the tires be the correct type and size, in good condition, and properly inflated. Be sure to follow the requirements and recommendations in ...
If the Starter Does Not Operate
1) Try turning the ignition switch to the "START" position with the headlights turned on to determine the battery condition. If the headlights go excessively dim or go off, it usually means th ...