Speedometer/Odometer/Trip meter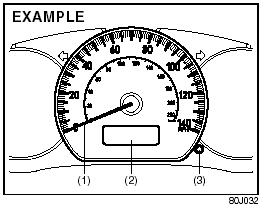 Speedometer/Odometer/Trip meter
(1) Speedometer
(2) Odometer/Trip meter
(3) Indication selector knob
Speedometer
The speedometer indicates vehicle speed in MPH.
Odometer/Trip meter
When the ignition switch is turned to "ON", the display shows the odometer or trip meter. The odometer records the total distance the vehicle has been driven. The trip meter can be used to measure the distance traveled on short trips or between fuel stops.
CAUTION:
Keep track of your odometer reading and check the maintenance schedule regularly for required services.
Increased wear or damage to certain parts can result from failure to perform required services at the proper mileage intervals.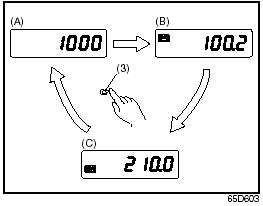 When the ignition switch is turned to "ON" with the lighting switch is in the "OFF" position, the display shows three types of indication; odometer (A), trip meter A (B) and trip meter B (C). Push the selector knob (3) quickly to switch the indication among the three.
You can use the two trip meters (A and B) independently.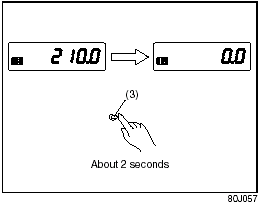 Hold in the selector knob for about 2 seconds to reset the trip meter to zero.
See also:
Heating System
Description of Controls Temperature selector (1) This is used to select the temperature by turning the selector. Blower speed selector (2) This is used to turn on the blower and to select blow ...
"PASS AIR BAG OFF" Indicator
"PASS AIR BAG OFF" Indicator The "PASS AIR BAG OFF" indicator is located on the center of the instrument panel. When the ignition switch is turned to the "ON" position, this indicato ...
Cup Holder and Storage Area (if equipped)
Cup holders are provided in the center console. WARNING: Do not use the cup holder or the storage bin to hold cups containing hot liquids or sharp-edged, hard or breakable objects. Obje ...