Speedometer/Odometer/Trip meter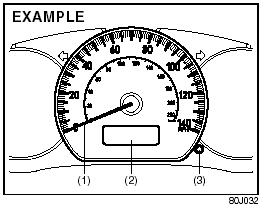 Speedometer/Odometer/Trip meter
(1) Speedometer
(2) Odometer/Trip meter
(3) Indication selector knob
Speedometer
The speedometer indicates vehicle speed in MPH.
Odometer/Trip meter
When the ignition switch is turned to "ON", the display shows the odometer or trip meter. The odometer records the total distance the vehicle has been driven. The trip meter can be used to measure the distance traveled on short trips or between fuel stops.
CAUTION:
Keep track of your odometer reading and check the maintenance schedule regularly for required services.
Increased wear or damage to certain parts can result from failure to perform required services at the proper mileage intervals.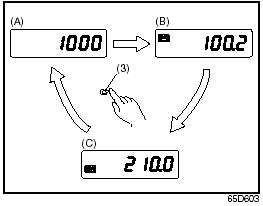 When the ignition switch is turned to "ON" with the lighting switch is in the "OFF" position, the display shows three types of indication; odometer (A), trip meter A (B) and trip meter B (C). Push the selector knob (3) quickly to switch the indication among the three.
You can use the two trip meters (A and B) independently.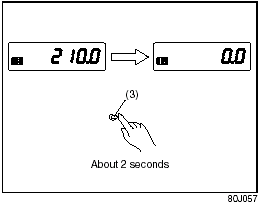 Hold in the selector knob for about 2 seconds to reset the trip meter to zero.
See also:
Information Display
Information Display (1) Clock (2) Thermometer (3) Instantaneous fuel consumption/Average fuel consumption/Driving range (4) "H" button (5) "M" button (6) "DISP" button (7) Freezin ...
2008 Suzuki Grand Vitara review By Steven Cole Smith
The market for small sport utility vehicles is among the toughest in the automotive world: So many good products, but only so many buyers. What's a little manufacturer like Suzuki to do? Offer g ...
Exhaust Gas Warning
WARNING: Avoid breathing exhaust gases. Exhaust gases contain carbon monoxide, a potentially lethal gas that is colorless and odorless. Since carbon monoxide is difficult to detect by itself, ...