Speedometer/Odometer/Trip meter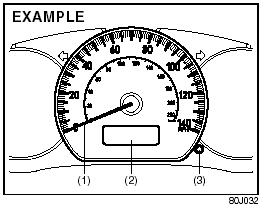 Speedometer/Odometer/Trip meter
(1) Speedometer
(2) Odometer/Trip meter
(3) Indication selector knob
Speedometer
The speedometer indicates vehicle speed in MPH.
Odometer/Trip meter
When the ignition switch is turned to "ON", the display shows the odometer or trip meter. The odometer records the total distance the vehicle has been driven. The trip meter can be used to measure the distance traveled on short trips or between fuel stops.
CAUTION:
Keep track of your odometer reading and check the maintenance schedule regularly for required services.
Increased wear or damage to certain parts can result from failure to perform required services at the proper mileage intervals.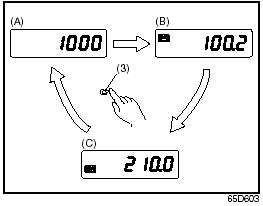 When the ignition switch is turned to "ON" with the lighting switch is in the "OFF" position, the display shows three types of indication; odometer (A), trip meter A (B) and trip meter B (C). Push the selector knob (3) quickly to switch the indication among the three.
You can use the two trip meters (A and B) independently.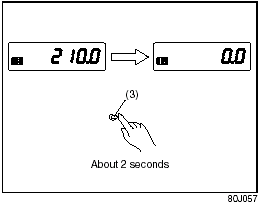 Hold in the selector knob for about 2 seconds to reset the trip meter to zero.
See also:
Equator RMZ-4, Quay and Quad Concept Vehicles
Designed to match Suzuki's performance-oriented motocross motorcycles, the RMZ-4 concept offers rugged off-road performance in a Crew Cab. This Equator-based concept, built by the Carlab of Orange ...
Catalytic Converter
Catalytic Converter The purpose of the catalytic converter is to minimize the amount of harmful pollutants in your vehicle's exhaust. Use of leaded fuel in vehicles equipped with catalytic co ...
Temperature Gauge
Temperature Gauge When the ignition switch is in the "ON" position, this gauge indicates the engine coolant temperature. Under normal driving conditions, the indicator should stay within th ...