Seat Adjustment


WARNING:
Never attempt to adjust the driver's seat or seatback while driving. The seat or seatback could move unexpectedly, causing loss of control.
Make sure that the driver's seat and seatback are properly adjusted before you start driving.


WARNING:
To avoid excessive seat belt slack, which reduces the effectiveness of the seat belts as a safety device, make sure that the seats are adjusted before the seat belts are fastened.
Adjusting Seat Position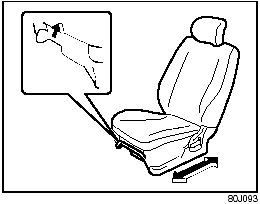 Front seat
The adjustment lever for each front seat is located under the front of the seat. To adjust the seat position, pull up on the adjustment lever and slide the seat forward or rearward. After adjustment, try to move the seat forward and rearward to ensure that it is securely latched.
Adjusting Seatbacks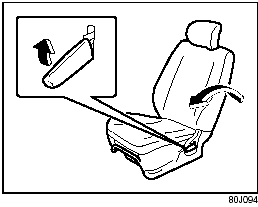 Front seat
To adjust the seatback angle of front seats, pull up the lever on the outboard side of the seat, move the seatback to the desired position, and release the lever to lock the seatback in place. After adjustment, try moving the seatback to make sure it is securely locked.


WARNING:
All seatbacks should always be in an upright position when driving, or seat belt effectiveness may be reduced.
Seat belts are designed to offer maximum protection when seatbacks are in the upright position.
See also:
Quality Interior
The interior is where observers were most pleasantly surprised, thanks to a clean design, good materials and construction, and a mostly quiet cabin, excepting the occasional engine rumble mentione ...
Important Vehicle Design Features To Know
WARNING: Your multipurpose vehicle has handling characteristics that differ from those of a conventional passenger car. For the safety of you and your passengers, please read the following sect ...
Spark Plugs
Spark Plugs 65D180 You should inspect spark plugs periodically for carbon deposits. When carbon accumulates on a spark plug, a strong spark may not be produced. Remove carbon deposits with a w ...