Drive Belt

WARNING:
When the engine is running, keep hands, hair, clothing, tools, etc. away from the moving fan and drive belts.
Make sure the drive belt tension is correct.
If the belt is too loose, insufficient battery charging, engine overheating, poor power steering, poor air conditioning or excessive belt wear can result. When you press the belt with your thumb midway between the pulleys, there should be a deflection according to the following chart.
The belts should also be examined to ensure that they are not damaged.
If you need to replace or adjust the belt have it done by your SUZUKI dealer.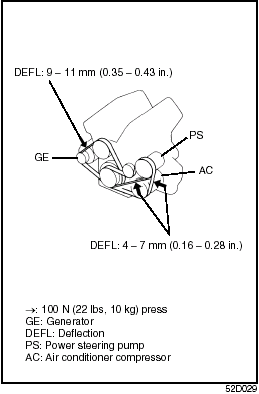 See also:
Fuel Recommendation
Your vehicle requires regular unleaded gasoline with a minimum rating of 87 pump octane ((R + M)/2 method). In some areas, the only fuels that are available are oxygenated fuels. Oxygenated fue ...
Service Station Guide
1. Fuel. 2. Engine hood. 3. Tire changing tools. 4. Engine oil dipstick <Yellow>. 5. Automatic transaxle fluid dipstick <Red>. 6. Engine coolant. 7. Windshield washer fluid. 8. Ba ...
Specifications
NOTE: Specifications are subject to change without notice. M/T: Manual transaxle. A/T: Automatic transaxle. 2WD: 2-wheel drive. i-AWD: intelligent All Wheel Drive. ...