Coat Hooks (if equipped)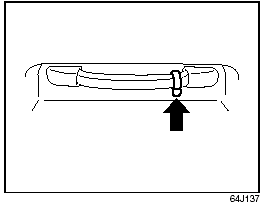 Coat Hooks (if equipped)
You can hang clothing on the coat hooks.
These hooks are not designed for large or heavy items.

WARNING:
If your vehicle is equipped with side curtain air bags, do not hang sharp items like a hanger on the coat hook.
When hanging the clothes, hang it on hook without using a hanger.
See also:
Location of Warning Messages
Read and follow all of the warnings (labels etc.) on your vehicle. Make sure you understand all of them. Keep them on the vehicle. Do not remove the messages for any reason. If a label comes off o ...
Steering Wheel
Steering Wheel Check the play of the steering wheel by gently turning it from left to right and measuring the distance that it moves before you feel slight resistance. The play should be betw ...
Clutch Pedal
Clutch Pedal Check the clutch pedal for smooth operation and clutch fluid level from time to time. If clutch dragging is felt with the pedal fully depressed, have the clutch inspected by your S ...