Fuel Filler Cap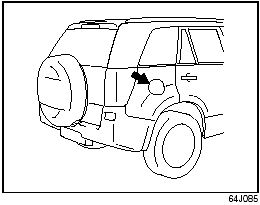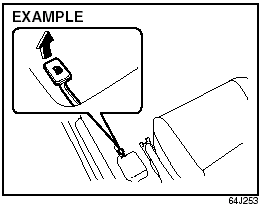 The fuel filler cap is located on the right rear side of the vehicle. The fuel filler door can be unlocked by pulling up on the opener lever located on the outboard side of the driver's seat and can be locked by simply closing the door.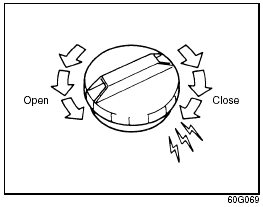 To remove the fuel filler cap: 1) Open the fuel filler door.
2) Remove the cap by turning it counterclockwise.

WARNING:
Remove the fuel filler cap slowly. The fuel may be under pressure and may spray out, causing injury.
To reinstall the fuel filler cap: 1) Turn the cap clockwise until you hear several clicks.
2) Close the fuel filler door.

WARNING:
Gasoline is extremely flammable. Do not smoke when refueling, and make sure there are no open flames or sparks in the area.

WARNING:
If you need to replace the fuel cap, use a genuine SUZUKI cap. Use of an improper cap can result in a malfunction of the fuel system or emission control system. It may also result in fuel leakage in the event of an accident.
See also:
Vehicle Loading
Your vehicle was designed for specific weight capacities. The weight capacities of your vehicle are indicated by the Gross Vehicle Weight Rating (GVWR), the Gross Axle Weight Rating (GAWR, front ...
Important Vehicle Design Features To Know
WARNING: Your multipurpose vehicle has handling characteristics that differ from those of a conventional passenger car. For the safety of you and your passengers, please read the following sect ...
Gearshift Lever
Manual transaxle Automatic transaxle Your vehicle is equipped with either a manual transaxle or automatic transaxle. The gearshift lever for each transaxle type is shown. For details on how t ...